Steering's pretty well weighted at low speed so I can feel what's happening with the road. I've got a bit of grid noise coming up here – those nice big tyres – and I can feel the chassis. The secondary ride's got a bit of nibble in it. It's a stiffly sprung car and I'm trading a little bit of comfort here because I'm in a sports car. I'm in the ultimate sports car.'
All this and we've only reached the barrier at the gatehouse of Aston Martin's Gaydon HQ in Oxfordshire. But then I am riding shotgun with Aston's engineering chief, Ian Minards, and perhaps unsurprisingly, as we head out onto the local roads used to sign off every new Aston, he's a dab hand at articulating his thoughts into a digital recorder with minimal data lag.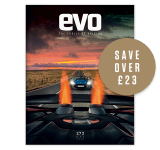 Subscribe to evo magazine
Subscribe today to have every issue of evo delivered straight to you. You'll SAVE 39% on the shop price, and get evo for its original cover price for a whole year!
I've got some of my own to be mulling over before he hits the loud pedal in earnest. A top speed of 190mph, 0-60mph in around 4sec, 12 cylinders, 510bhp and £140,000. So, a well-worn test route beckons, but the experience in store promises to be a new one.
It's starting to rain, which isn't ideal, but I'm buoyed (if a little confused) by Minards' description of the V12 Vantage we're sitting in – no longer a concept but as near as dammit the honed and fine-toothcombed production car – as the ultimate sports car when, in strictly hierarchical terms, it isn't even the ultimate Aston; that position still officially belongs to the one James Bond drives and frequently destroys. But I know what he means. It's simple physics. Take the 6-litre V12 from the DBS and shoehorn it under the bonnet of the smaller, lighter V8 Vantage (remembering to put lots of slats in the bonnet so it doesn't overheat). It sounds like a recipe for some kind of 'ultimate' with which to attack Porsche and Ferrari.
I can't help noticing that Minards, who must be at least six foot three, is a snug fit behind the wheel, his knees brushing the lower portions of the Vantage's Alcantara-trimmed steering wheel. And even with the gorgeous and exquisitely shaped bucket seat pushed right back, he's still having to reach back for the chunky aluminium gearlever, an ergonomic bugbear that's afflicted Aston's 'entry level' model from day one. Moreover, the V12 Vantage will be available only as a six-speed manual, so the problem can't be alleviated by the paddle-shift option offered on its V8 sibling.
But if it could, asserts Minards, it wouldn't be the most focused, rapid and exciting drivers' car Aston has ever made, which was always the plan when the project kicked off in the early months of 2007. 'I guess it's a car for the automotive connoisseur,' continues Minards, changing gear with a smoothness that belies the slight awkwardness of his arm action. 'It's for people who know their motors. The closest competitors are going to be 911 Turbo, GT2… that type of car: a compact, focused drivers' car. Ultimate reserves of power and torque.'
The car we're heading for the M1 in is one of a batch of verification prototypes. They were built just before Christmas and are currently performing the final verification tests: ride and handling, durability, electrical systems. This particular example is the chassis dynamics car. It has just returned from the Idiada proving ground in Spain where Aston's chief test driver, Craig Croot, was signing-off on the Pirelli P Zero Corsa tyres. Craig's final checks and tweaks have still to be done – there's one more 20-lap durability run to do at the Nürburgring – but, essentially, the chassis is sorted.
Prising the V12 into a space intended for a V8 presented a greater challenge. Minards laughs: 'It sounds relatively straightforward, but it was far from that. The structure forward of the bulkhead had to be modified a lot, not just to fit the V12 with the engine crossmember and the rest, but also the cooling installation, which sits at a different angle to the V8's.'
Minards finally gets to stretch the Vantage's legs as we join the M1 and, as my spine sinks deeper into the leanly padded backrest, we're treated to the best hair-prickling V12 soundtrack since the Vanquish. It's arguably even better. 'A lot of the character of the car for me stems from the reserves of power,' says Minards. 'You can be in any gear at any point in time and the thing will still pull.' And how. The acceleration is properly hardcore, with sustained savage thrust through third, then fourth.
I ask if the engine is in standard DBS tune. 'Pretty well,' Minards replies. 'There are a few tweaks and bits and pieces but essentially it's DBS. There's a different back pressure and the air inlets are different because you've got a different run for the dirty air feed into the air cleaners, but the basic architecture and hardware is the same, and benefits from all the same things. It's very responsive, it's very revvy. The gear set is pretty much the same as the DBS, as are the differential and gearbox.'
But that doesn't make it a Mini-Me DBS. Minards explains: 'It's surprising how the character of the car is so different. Craig was driving this and a DBS down at Idiada and the Vantage was lapping a fair bit quicker. It's this agility and nimbleness that we were trying to achieve. It's a track-focused car, but at the same time there's a fair bit of refinement as well.'
We peel off onto the A452 and Minards wriggles himself a little deeper into the seat. The data stream flows unabated: 'This is our sign-off route. We start off with a bit of motorway. How do I feel about overall refinement? Can I talk to you without having to shout? How do I feel about the steering nibble, the tracking at speed? I mean, I can feel the taut chassis, but I can also feel that it isn't raw. I've got a bit more tyre noise than I'd have in a standard V8, but I've got a bit more feedback coming up through the chassis because it's stiffer. But it's not something that's making me bounce up and down in my seat. And when we go through the twisty bits, that's when you really feel the difference.'
So what else do these roads reveal? The V12 Vantage gets the same 398mm front, 360mm rear carbon-ceramic discs as the DBS. Minards reckon they're just the ticket: 'From a braking point of view, this car is slightly lighter than the DBS but the carbon ceramic brakes are so good on the DBS that you never ever feel you're going to run out of brakes on this car.'
And what about the steering? 'One of the things I love about this car is the responsiveness of the steering, the crispness of that initial yaw response. The build-up in yaw gain is just fantastic, and that's what gives this car its nimble feeling, the ability to throw it in and trick it around.'
The reserves of torque are once again being called upon, contributing to our increasingly indecent haste across the black stuff. The V12's delivery is astonishingly linear, giving the performance a compelling air of invincibility. Then Minards hits the Sport button on the centre console, which sharpens the throttle map, unlocks the full 510bhp and keeps the exhaust valves wide open all the time. Oh, the noise…
'We know everything there is to know about our muffler now and we know what to do to get the right noise,' explains Minards. 'There's this wonderful crescendo as you move through the rev range. We did a bit of work on the computer with wave analysis. We like it.'
But there's nothing gratuitous about the switchable engine note, nor the sharper throttle response. The Aston approach to engineering development, says Minards, centres around balance and harmony. As we turn back towards Gaydon on the A4100, drop the pace and disengage Sport mode, the V12 Vantage returns to its stealthy-but-poised setting. Minards picks up his theme: 'You want to keep it in proportion to what you're doing with the throttle. There should be harmony across the controls. And the responses to the inputs also need to be harmonious. It's no good if I feed in a bit more throttle and, suddenly, the car scoots off down the road. Balance is something that the vehicle engineer aims for, whether it be the chassis or the sound, and that Sport button is one of the things that comes out of that quest. If you have the car in balance at a certain level, you can then move it up another level and have it remain in balance. And it puts a smile on your face.'
So a little less GT, a little more sports car? 'Yes,' comes the reply. 'Possibly, this is more of a high days and holidays car than the DBS. But can you use it every day? Absolutely.'
Extra Info
Specifications
| | |
| --- | --- |
| Engine    | V12, 5935cc |
| Location    | Front, longitudinal |
| Cylinder block    | Aluminium alloy |
| Cylinder head    | Aluminium alloy, dohc per bank, four valves per cylinder |
| Fuel and ignition    | Electronic engine management, multipoint fuel injection |
| Max power    | 510bhp @ 6500rpm |
| Max torque    | 420lb ft @ 5750rpm |
| Transmission    | Six-speed manual gearbox, rear-wheel drive, limited-slip diff, DSC |
| Suspension    | Double wishbones, coil springs, dampers, anti-roll bar front and rear |
| Brakes    | Ventilated and cross-drilled carbon-ceramic discs, 398mm front, 360mm rear, ABS, EBD, EBA |
| Wheels    | 19in front and rear, aluminium alloy |
| Tyres   | Pirelli P Zero Corsa |
| Weight (kerb)    | 1680kg |
| Power/weight    | 308bhp/ton |
| 0-62mph    | 4.0sec (est) |
| Top speed    | 190mph (est) |
| Basic price   | c£140,000 |
| On sale    | Late 2009 |