The i8 is a new age sports car, but it proves that the basic tenets of involving handling, strong straight-line performance and eye-catching styling will always be central to the sports car proposition.
With its clever hybrid drivetrain, the i8 is very nearly as accelerative as a Porsche 911 Carrera, but it can also cover close to 20 miles in electric only mode, which makes it a unique offering at this price point. The drivetrain is certainly an impressive technological achievement and an object lesson in systems integration, but it lacks the emotional appeal of a soulful, high-revving engine and that will count against it among certain traditional sports car buyers.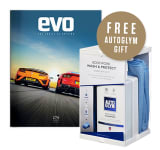 Subscribe to evo magazine
Subscribe today to our exclusive new offer and SAVE 39% on the shop price, get evo for its original cover price of £3.00 an issue, plus get a FREE gift worth £20!
Aside from slightly remote steering and a lack of outright grip across the front axle in hard cornering – a result of its narrow tyres – the i8 is genuinely fun to drive. It has superb body control and excellent balance.
The i8 turns heads like few others £100,000 sports cars, perhaps because it is the car of the moment. The cabin architecture is very seductive, but it's something of a shame that all of the minor controls and the infotainment interface are lifted directly from the rest of the BMW range. 
Performance and 0-60 time > The i8's performance is quite frankly astonishing for a car with a three-cylinder engine. Generating 227bhp from the petrol part of the hybrid-drive system and 129bhp from an electric motor it can deliver a 0-60 time of just 4.4 seconds. Read all about the BMW i8 Performance and 0-60 time here
Engine and gearbox > The i8 essentially uses a re-worked engine from the entry-level Mini Cooper mated to an electric motor at the front axle. This is then combined with a clever seven speed gearbox. Read all about the BMW i8 Engine and gearbox here
Ride and handling > In everyday driving the i8 is comfortable given its performance potential. It has better body control over a cresting, undulating road than any of BMW's high performance M cars and it feels agile, darty and poised in corners. Read all about the BMW i8 ride and handling here
MPG and running costs > As intended the i8 is focused on emissions and better fuel economy. Running purely electric, the car can manage 22 miles. A combined range of 330 miles is possible. Real world MPG sits in the mid 30s to early 40s, but rarely drops below that even when you're driving quickly. BMW i8 MPG and running costs
Prices, specs and rivals > The i8 is a fairly well specced car from standard, unlike its key rival the Porsche 911. Prices start at £104,540, which gets you iDrive, Bluetooth and a high quality sound system. Read all about BMW i8 prices, specs and rivals here
Interior and tech > From the moment you slide up the dihedral doors, the i8 feels special. Clever use of recycled materials, unusual styling and clever iPhone interactivity make the hugely i8 exciting. Read all about the BMW i8 interior and tech here
Design > BMW has done a stellar job with the i8's design. Perhaps one of the few cars to ever truly live up to its concept, there is nothing else on the road quite like it. Read all about the BMW i8 design here
Video review > We have both a video review of the BMW i8 and a Deadly Rivals film where we pit the car against a BMW M4. Watch our BMW i8 video reviews here
Prices, specs and rivals
Unlike many models in the £100,000 price range, the i8 sports gets almost all of the kit you'd ever need as standard. Models such as the Porsche 911 may require you to add thousands onto the base price to get what you desire, but specifying the Bavarian hybrid shouldn't drive the price too far north of the £106,000 entry point.
Earlier last year at the Frankfurt Motor Show, BMW revealed an open top roadster variant of the i8. The removal of its roof comes with the addition of cost however, with the roadster starting at almost £125,000.
There isn't an awful lot of customisation permitted when configuring the i8, with just five two tone finishes available, each hue contrasting with either Frozen Grey or BMW i Blue accents. Sophisto Grey is a no cost addition, while Iconic Silver coming in at £450 and Crystal White with blue/white accents the most expensive, at £1350. Other than the standard five spoke wheels, you can choose from two other 20 inch options at £1500.
Ducking under the scissor doors presents an interior befitting the futuristic exterior.  There are three interior 'worlds', each upholstering the cabin with different materials. At £895 the Harman Kardon stereo upgrade would be beneficial to those who'll be travelling under the sole, serene steam of the electric motor more often than not.
Other than that, the options list is mostly confined to small interior styling tweaks or minor upgrades to the infotainment system - there really is just about everything you could realistically want. The extensive suit of technological functions and amenities includes heated seats, climate control, a heads up display, keyless entry with BMW's smart key, and the iDrive infotainment integrating the navigation system.
Most of the above is controlled via iDrive, one of our favourite infotainment systems and offers all the features you could want, accessed via the BMW's high resolution screens in the binnacle and atop the dash. The options list does offer extras such as web browsing, which are reasonably priced but largely useless.
Slotting the BMW i8 into a performance car segment is difficult, hence defining its rivals is too. The closest rival we can think of to the i8 is a well lavished Porsche 911 Carrera 4 GTS. Also just eclipsing six figures and offering 430bhp from a naturally aspirated flat six, it's a very exciting thing. Dynamically, it may also be better, but no amount of bright Guards Red paint turns heads like an i8.
A fellow hybrid supercar, and  technological tour de force, the all-wheel drive NSX carries a £30k premium and  flaunts the same supercar panache as the i8, although it's performance perhaps elevates the Honda out of the i8's territory. Tesla's P100D, which undercuts the Japanese supercar by a few thousand pounds offers stratospheric straight line performance purely under electric power - oddly addictive, it's a wholly different proposition but one that shouldn't be discounted.
Watch an i8 square up to a 911 Carrera GTS here
Alternatively, you have the Tesla Model S P90D. This is a very different car to the i8; larger, heavier and altogether more 'executive'. In pure acceleration terms it's mighty, but falls short of the BMW when it comes to driver involvement.