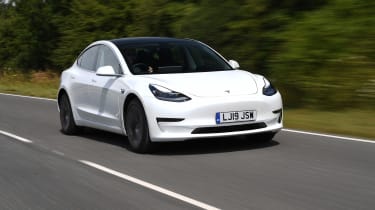 1/17
The biggest surprise with the Model 3 is not the acceleration, rather the way it handles at high and low speeds. It feels like the engineers really understood how to tailor the handling balance to the Model 3's technical makeup. Performance models do ride firmly, the 20-inch wheels not particularly relenting over smaller intrusions like those on the most deftly of damped Audi RS models, but body control is quite impressive, especially considering the Model 3's sometimes violently rapid movements.
I say movements, as Tesla's engineers have integrated a very quick steering rack, which combined with the incredible acceleration makes driving quickly in pretty much all scenarios spookily easy. The steering itself is largely feel-free, but it is trustworthy, accurate, and surprisingly heavy in its turn of response, giving you a solid and consistent touchpoint to really start to explore the chassis' inherent composure. The Performance model's Michelin Pilot Sport tyres are another sign this Tesla is no needless eco-warrior either, as the front end has no trouble hanging around at low speeds, and while the inherent balance means there is no real untoward weight distribution to manipulate, the rear-motor's higher torque rating does begin to make itself felt as you begin to realise there is even a playful side to the chassis.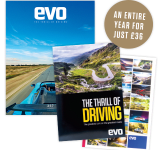 Subscribe to evo magazine
evo is 21 and to celebrate, we're returning to 1998 prices! Subscribe now to SAVE 39% on the shop price and get evo for its original cover price of £3.00 an issue, plus get a FREE gift worth £25!
In Track mode, the ESP is effectively switched off, and the software works in a very different way to the normal, traction-enhancing programming. How different? Well, turn into a corner on a circuit, as we did at Paul Ricard in the south of France, be confident on the throttle, and the rear will step out like it's on castors. As long as you haven't overworked the outside front on turn-in, the Performance wants to oversteer, and strongly. Keeping it there involves a specific technique, because feathering the throttle confuses things and applying lots of corrective lock makes the software want to hit 'game over' ASAP. Instead, a small, early hint of correction and a steady throttle settle the car into an absurd, tyre-shredding drift, which with the necessary deftness can have the 3 donutting around a skidpan in a continuous arc. And if you do overstep the mark, a bootful of throttle will send a heap of torque to the front axle, pulling the car back from the brink at the sort of angle even Gigi Galli might think was unrecoverable. Get it wrong, though, and you will spin, in a silent, helpless washout, but the engineers have tried to pitch the system at somewhere between novice and expert wheelman. It's like nothing I've ever experienced before.
Do we miss the sound of a Lamborghini V12, a Mezger flat-six or the straight-six in an E46 M3? Of course we do. Who wouldn't? But do we miss the sound and vibration of a 2.0 TDI, however refined, and the operation of the ubiquitous ZF eight-speed automatic? No. And that's important, because as everyday transport the Model 3 is fantastic: smooth, effortless, authoritatively rapid, slightly firm in terms of ride quality but well controlled and rational. But of bigger surprise is the possible emergence of a new strain of the Thrill of Driving, and of dazzling new possibilities for chassis dynamics, which make the Model 3 Performance a car with real relevance to evo. It's BMW M3 money as well as performance, but tellingly, it doesn't feel overpriced.
The debate around electric cars, their use of natural resources and issues of infrastructure is immense and ongoing, just as questions over Tesla's financial stability and its ability to build enough cars, and to the right quality level, persist. Whatever the reality, the Model 3 Performance makes the SUV-based EV efforts of other manufacturers look terribly conservative and uninteresting, and I'll readily admit it has opened my eyes to a completely new type of driving that, alongside the continued enjoyment of internal combustion engine vehicles, seems to promise a bright and exciting future after all.