Alfa Romeo confirms Stelvio as SUV name - still due in 2017
New car named after iconic road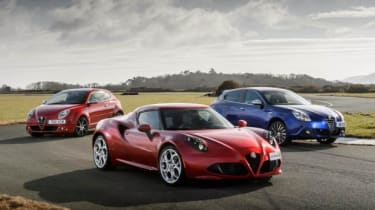 Alfa Romeo has confirmed that its new SUV is to be called the Stelvio. The car is named after the famous winding mountain pass in northern Italy, which is recognised by many as one of the greatest driving roads in the world.
Consisting of over 40 hair pins, it's not the ideal place to find driving thrills in an SUV, although the name is a bit of a dynamic statement of intent from Alfa.
Alfa has confirmed that plans to launch the Stelvio in 2017, but has shifted its overall goal to have eight models in production back to 2020. The decision comes following a planned reduction in R&D, manufacturing and product investment for 2018.
Alfa Romeo had used the 2014 LA Auto Show to announce plans to have eight cars on sale by 2018, all produced in Italy on both all-wheel-drive and rear-wheel-drive platforms. An ambitious goal, the company has now had to delay that until 2020.
The Alfa Romeo Stelvio remains a closely guarded secret, although a few images of the car have appeared online, including one of Alfa Romeo designer Lorenzo Ramaciotti sat in the boot.
Also said to be in the pipeline is another two further SUVs, one of which is designed to be an X3 rival and set for launch post 2018. Other 'speciality' models are also planned, both of which will likely be sportscars and designed to compliment the rear-wheel drive Giulietta replacement Alfa Romeo has planned.
The SUV is expected to use a 2.2-litre diesel engine, the same as which will be available in the Giulia in either 150, 180 or 210bhp form. Also available is said to be a 2-litre petrol engine that will produce 200, 250 and 280bhp. It's even possible a Porsche Macan-style V6 variant from the Giulia QV may be in the running. FCA is also said to be looking into battery and hybrid technology. 
If you'd like to learn more about Alfa Romeo's product plans, why not take a look at our preview of the Giulia QV here.