New Audi A4 Allroad brings with it latest Quattro-ultra four-wheel-drive system
More efficient AWD tech debuts in latest A4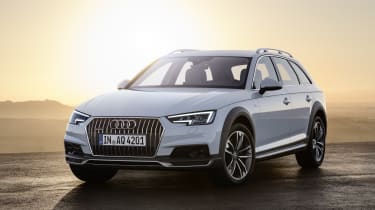 The latest generation Audi A4 Allroad will take advantage of Audi's new four-wheel drive Quattro-ultra system. The Allroad will run as a conventional front-wheel drive car but have the ability to switch to full all-wheel-drive when conditions demand it.
We've got an in-depth preview of the new Quattro system, including what benefits it might potentially bring to the much more exciting RS models in the Audi range, here.
As for the new A4 Allroad, the car is set to go on sale from from April 2016. Initially Quattro-ultra will only be available with Audi's 248bhp 2.0-litre TFSI engine, although it is set to be rolled out across the rest of Audi's longitudinally engined range.
The A4 Allroad brings with it 34mm of extra ground clearance over the standard A4 Avant. It also features a new offroad mode and optional adaptive suspension. 
Those not looking for the new Quattro-ultra tech can opt for either a 2-litre diesel or a 3-litre diesel, both of which feature traditional Quattro drivetrains with a centre locking differential.
The interior of the A4 Allroad brings with it all the revised interior tech found in the same new look A4 and A4 Avant. The HD 'virtual cockpit' found in the TT and R8 is an option, are Matrix LED headlights and MMI Navigation Plus.