Fiat Panda 100HP buying guide
Fun, funky and economical, this fabulous little Fiat is also an absolute bargain secondhand. We help you find a good example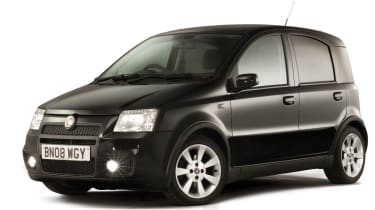 It's a given that when it comes to building cars with heart and soul, the Italians are unsurpassed, and 
while they're certainly not the only car-building nation to implant high-performance engines into mundane models, they do tend to do so with a passion and 
flair that is unique.
Cast your mind back to models such as the Fiat Strada Abarth and Uno Turbo and the Lancia Delta HF Turbo – everyday runabouts with levels of performance that seemed pretty outrageous at the time, yet simultaneously practical and rewarding to drive. However, they weren't always a good secondhand buy, with an often well-deserved reputation for poor build quality and dubious reliability that would frequently lead to an early demise…
Thankfully the Fiat Panda 100HP does not suffer like its predecessors, yet otherwise it follows a similar formula. Here is a largely uninspiring city car endowed with a 99bhp 1.4-litre engine, a 6500rpm red line and a six-speed gearbox to make the most of it. Body styling is from the best school of stick-on addenda, with black plastic wheelarch extensions, revised front and back bumpers, darkened 'privacy' glass at the rear and fatter 15in rims giving the baby Fiat some degree of presence.
It goes without saying that the chassis is a significant step ahead of the base Panda, with lowered and tightened suspension and the addition of a 'Sport' button in the dashboard, replacing the more familiar 'City' version. While the City mode gave even more assistance to the steering for tight, urban roads, the Sport version removes it, firming the feel and giving better feedback to the driver. It also sharpens the throttle response, which is something of a double-edged sword – great on the open road but annoying if left on around town.
You can't help but smile, though. Responsive and willing, in a car that weighs less than a ton, the 1.4 delivers all the performance you need to ensure the warm (you could never genuinely describe it as 'hot') Panda is nothing but fun on a good B-road. Sure, motorways are never going to be a relaxed experience in something so small, firmly sprung and raw, but that's not what the Panda's about. Point it at some twisty tarmac and it comes alive.
The key to getting the most from the 100HP is to use only the right-hand pedal and avoid the middle one at all costs. Keep the speed up entering a corner, let the suspension dig in, the tyres bite, and drive it through. Understeer makes fewer appearances than you'd expect and the chassis remains remarkably composed and predictable. The Panda's limits are not only a lot further away than you'd imagine, there is also plenty of warning as you begin to approach them.
The result is a grin-inducing drive that truly embodies everything we love about small Italian performance cars. Oh, and did we mention this can all be had for the same price as a reasonable family holiday.
'I BOUGHT ONE'
JOE ALEXANDER
'I'd been driving a Fiat Brava that I "acquired" from my mum when I passed my test, but with 140,000 miles on the clock it was on its last legs. I was looking for something that was fun but on a relatively tight budget. I tested a 100HP and was sold instantly.
'I managed to get a fantastic deal from the dealer – the car was listed at just over £10,000 and I got mine for exactly £8000 in early 2008.
'I love everything about it – the way it looks, the handling and the engine. My work commute takes 30 minutes and I always, without fail, go cross-country. The car's OK on the motorway but if there's a route that avoids them or dual carriageways, I'll choose that – it's what it's made for.
'I love using the engine, right up to the red line. It's great in first, second and third, but after that, it's a bit rubbish. Round the lanes, though, that's all you need. With the Panda's chassis, you don't use the brakes or even lift – you keep the speed up and throw it around. Brilliant fun…'