Caterham R500 production ends
The last of the line Caterham Superlight R500 has rolled out of Dartford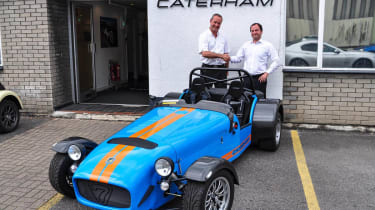 The last-of-the-line Caterham Superlight R500 has rolled out of Dartford, the British carmaker bringing a close to the high performance Seven's production. Labelled as the "ultimate Seven" by our own Jethro Bovingdon, the R500 accelerates from 0-60 in 2.9sec.
A total of 174 Superlight R500s have been sold since production began in 2008, with almost half of those headed overseas to countries like Japan, Italy, Germany and France. As a car that essentially epitomised the Colin Chapman philosophy for lightweight sports cars, the R500 remains one of the fastest sports cars ever to grace public roads.
Producing 263bhp from its 2-litre four-cylinder Ford Duratec engine, the 506kg Superlight has a power-to-weight ratio of 528bhp per ton - more than the Bugatti Veyron. A traditional six-speed manual gearbox is fitted.
The new Caterham 620R is ultimately faster, but with a sequential gearbox it arguably loses a little of the purity that trickled down from the first ever Seven, something the R500 managed to cling onto.
Such are the talents of the R500, that Caterham hosts a racing series for the car. Called the Superlight R500 Series, the fact the cars race essentially in road spec shows how much of a road going racer they are from the off.
Though production has ended, the legacy of the R500 will certainly live on. As Caterham Group CEO, Graham Macdonald puts it, 'if Caterham wasn't already firmly on the map as one of the world's best-known British sports car makers, the R500 certainly helped us to cement that position.'