Lamborghini Huracan LP 580-2 official - cheaper, lighter and rear-wheel drive
572bhp and stiffer suspension for new Huracan variant
Lamborghini has unveiled a new rear-wheel drive variant of the Huracan. Called the LP 580-2, the new car boasts a 33kg weight drop over its four-wheel drive cousin, tipping the scales at 1389kg.
The Huracan's 5.2-litre V10 engine has been detuned to 572bhp, rather than the 601bhp unit found in the four-wheel drive car. This translates to a 0-62mph time of 3.4-seconds and gives the new Huracan a top speed of 199mph. The V10 produces 398lb ft of torque, with 75 percent available from 1000 rpm.
Lamborghini says it has set the car up to offer 'oversteering characteristics, which emphasise authentic rear-wheel drive behaviour'. Chassis revisions include stiffer springs and revised anti-roll bars, while Lamborghini has upped torsional rigidity over the old rear-wheel drive Gallardo by 50 percent. The car is also stiffer than the four-wheel drive Huracan and gets a 40:60 rear weight distribution.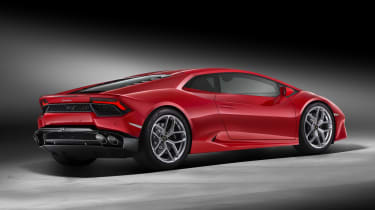 The Huracan's driving modes, all of which are governed by the 'Anima' button found on the steering wheel, have been recalibrated for the rear-wheel drive car. Other changes include cylinder deactivation technology for the V10 engine, allowing the car to run on five cylinders at cruising speeds to save fuel. Being rear-wheel drive and lighter, CO2 emissions have dropped down to 278g/km.
External differences over a standard Huracan are subtle, but include new air intakes on the front to increase front axle downforce. The rear-spoiler is now setup to work with the diffuser and offer improved airflow around the rear.
Huracan LP 580-2s will come standard on Pirelli PZero-shod 19-inch wheels as standard; 20-inch alloys will be an option.
The car has been confirmed at €150,000 plus tax in Europe, with UK pricing still to be confirmed. Even so, a drop of €53,000 over a four-wheel drive LP 610-4 should translate to cheaper prices for the rear-wheel drive Huracan when its cost in the UK is eventually announced.