'The Land Rover Defender is a rewarding drivers' car'
Is there an 'evo' defence for the Land Rover Defender? As an owner of one one, Porter believes there is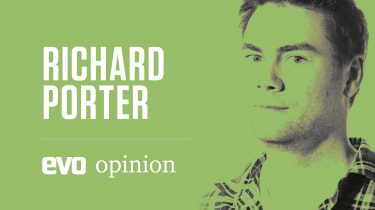 I showed my wife a photograph of the car I wanted to buy. 'Oh my God, that's the coolest thing I've ever seen,' she said. This was a better than expected reaction. 'Can you get it as an automatic?' she asked.
'Ah, no,' I said. 'And how many airbags does it have?' 'It has none,' I mumbled. 'What about Isofix for the baby seat?' she continued. 'Not as such,' I coughed, scratching a stubborn piece of invisible dirt off the laptop.
'So this wouldn't be our family car?' she concluded. 'But you still want to get one?' There was a pause. 'Is this because you're turning 40? Are you having a mid-life crisis?' 'If I say yes,' I muttered, 'will you leave me alone to order the car?'
And that's how I ended up with a Land Rover Defender Heritage. It's not our family car. It's not even necessary. I just wanted one. And nothing plays on that basic desire like the certain knowledge that production is going to end, coupled to the added delight of a retrogreen run-out model and the stout man maths that says it's 'an investment'. Turns out I wasn't the only person consumed with Defender lust. When Land Rover announced the end was near, demand went stellar. That's why it moved the death date back to January, making the lovely '1948- 2015' plaques on the final editions factually incorrect. I didn't care about this. Nor did I mind waiting almost a year for it to arrive.
A funny thing happens when you spend that year telling people you've ordered a Defender. As a general rule, women seemed to be filled with an immediate and effusive enthusiasm. Some men were too. But not all. 'What have you done that for?' my brother huffed when I said I'd put my name down for a piece of history. My brother does not like Defenders. He says they make his knee hurt. He's less inclined to mention that once, at his old work, he was given the keys to his company's brand new 110 and endured a load of jointcracking road miles to reach an off-road course where he promptly crashed it into a tree.
> 399bhp Land Rover Defender Works
My brother wasn't alone in his disdain. My friend Chris demanded to know why I was 'wasting my cash' on such a 'crock of crap. My friend Chris drives a SEAT Ibiza. Car journo Kyle Fortune was far from effusive and said I should have got a Porsche 911 993 like his. I pointed out to car journo Kyle Fortune that he managed to buy the last sub-30-grand 993 in the country and he could sod off. Besides, a 993 is an old car now. It will need things doing to it. I'm busy and lazy. I like the idea of old cars, but I also like the idea of warranties and a ready supply of parts. In this respect the Defender is perfect because it's a new car that feels like an old one.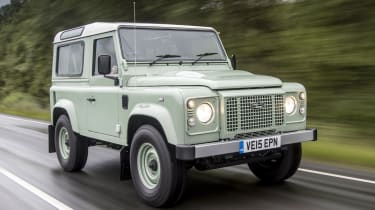 Just before Christmas, after a restless 11-month wait, I finally picked up my factory-fresh vintage car, pristine in green paint and infused inside with a pungent smell of rubber mats and Brummie bodgery. It's slow and noisy and rather bumpy. I absolutely adore it. Well that's all very nice, you might say, but it's not very evo is it? Oh, but you see, it is. It's not a car you'd hammer down the B660, fretting about its nuggety lift-on undershuffling, but it is a proper drivers' car because it makes you think about how you drive. If you're tired and idle, hauling on the big wheel and ker-lunking up and down the 'box seem like a chore and the whole car betrays its origins as a hefty piece of 1940s farm equipment.
Conversely, when you're prepared to put in the work, to give the correct steering inputs, to make sure you're in the right gear, to drive with care whether you're urban scuttling or cross-country running, there's reward to be had. But this means first getting familiar with the car and its foibles. Which means it gets under your skin. I'm loathe to trot out clichés about it having 'character', but put it this way: generally I think of cars as machines; glorious, intelligent, liberating and wonderful machines, but machines nonetheless. You can enjoy them without giving them names or making cack-handed attempts at anthropomorphism. Yet the other day while joining the M1, I quietly asked the Defender to 'giddy up'. Damn it all to Solihull, it's got me.
> Opinion: 'I think I'm done with fast road cars'
It's not a good car in any technical sense, but it is a very loveable one. I like the way it looks, I like the way it brings out warm feelings in other drivers, I like the way you have to really drive it, I like the way it doesn't have any radar-guided-lane-sensing-autostop-self-dimming-massage stuff on it. I like my Defender very much indeed. It's by far the best bad car I've ever owned. Now leave me alone to have this mid-life crisis in peace.