Lotus Exige S vs C63 Black, M3 GTS, 911 GT3 RS 4.0 and Nissan GT-R Track Pack
Is the 345bhp Exige S the car that will take Lotus to the next level? We pit it against four hardcore rivals from Mercedes, Nissan, BMW and Porsche to find out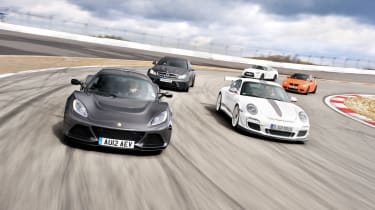 ll around the Exige S is bedlam. Accusations swirling in the air, well-rehearsed earnestness from Lotus's visionary saviour/deluded villain (delete according to preference) in press interviews, the spectre of a Chinese takeover threatened by a local MP, the rumours that Lotus F1 owners Genii Capital might just nab it from under their noses, the cringeworthy press releases and the storm of passionate support for the badge on Twitter, Facebook and a trillion internet forums…
But there's nothing that shuts out the world more effectively than swinging open the tiny door, falling backside-first through the narrow opening and then pulling your legs over the wide sill and into the footwell of the Exige S. The door clinks lightly shut and the squall of uncertainty disappears to silence. For the next couple of days the only storm clouds we'll worry about are the kind that dump tons of rain in a flash and upset P Zero Corsas and Michelin Pilot Sport Cups. I can't promise this test will unravel the plots and plotting, but by its end we will know for sure whether there's any substance left behind the high-gloss but fragile-looking Lotus façade. We'll know if the Exige S is a truly great drivers' car.
Of course we could have simply driven the Exige S around Hethel a few times, maybe done a lap of Wales or Yorkshire, and brought along a Cayman R for some context. Instead, we've thrown the new £50,850 Exige S to the lions to see how it copes under the most intense scrutiny. Lotus wants to take on the big boys? Well, here they are: the Nissan GT-R Track Pack and Mercedes C63 AMG Black Series, BMW's flick-knife-focused M3 GTS and our 2011 eCoty champion, the Porsche 911 GT3 RS 4.0.
The playground is pretty forbidding, too. Tree-lined toboggan runs that wriggle and thump downhill, fast open roads that cut across lush plains and plunge into pine forests, and, finally, a little circuit you may have heard of that's set into the most extreme topography of this Eifel region of Germany. Yes, that one.
Twist the key and the Exige S bursts into life with a theatrical whoop and settles to a barrel-chested, fast idle. Wow, this doesn't sound much like an Exige. But then it isn't really an Exige at all, more a sort of Exige/Evora mash-up that forgets all that nonsense about habitability and touchscreen satnav and instead concentrates on raw excitement, handling accuracy and astonishing performance.
The Exige S still uses the familiar aluminium tub, but beyond that it's a very different animal. It features wider tracks at the front and especially the rear, a 70mm longer wheelbase, and the rear subframe and suspension layout is similar to that of the Evora. Oh and that deliciously sinister noise is emanating from the Evora S's supercharged 3.5-litre V6, all 345bhp and 295lb ft of it. Suddenly the weight ballooning to 1176kg seems less important. This little Exige has 298bhp/ton and Lotus claims it'll run from 0 to 100mph in 8.5 seconds. A Cayman R wouldn't know which way it went. But then again, we didn't bring a Cayman R…