Nissan IDx definitely dead, but new Juke will be 'innovative and exciting'
Nissan's chief creative officer reiterates non-production of funky coupe, but it's not all bad news
Nissan has 'no plans to produce' the sporty, retro IDx coupe, according to the company's chief creative officer, Shiro Nakamura, speaking to evo at the Le Mans 24 Hours.
First presented at the 2013 Tokyo motor show, the IDx was unveiled in two forms – a high-performance Nismo version and a more relaxed, classically-styled IDx Freeflow concept.
Each was resolutely modern in its surfacing and details, but both had stylistic echoes of some of the firm's most popular historic models, including the Datsun 510 and first-generation KPGC10 Nissan Skyline GT-R.
It took the form of a four-seat, rear-wheel drive, two-door coupe, powered by compact turbocharged engines and in concept form at least, equipped with a continuously variable transmission. Reception was mixed, but the prospect of a rival to Toyota's GT86 and the Subaru BRZ was more than welcome.
Unfortunately, it appears that issues beyond just cost have put such a car on the backburner. In addition to the price point problems hinted at by Nissan's Pierre Loing last year, Nakamura hints that the IDx's unusual style doesn't quite sit with the company's design direction.
'The IDx is very special. We have no plans to produce it, at the moment. I want to keep very strong brand expression at Nissan.'
That brand expression is part of Nissan's focus on introducing a more consistent look across its range. 'If we have say, 120 degrees of diversity today, maybe I'll direct it down to 90 degrees. Our cars need to be more clearly identifiable for consumers.'
However, Nakamura also expressed his keenness to innovate and maintain exciting product lines in Nissan's range.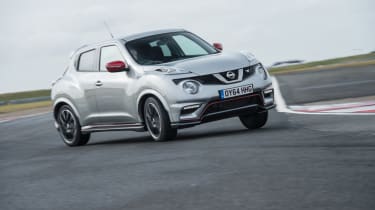 One of those will be the next Juke. The Juke compact crossover has been one of Nissan's strongest-selling models since its introduction, despite its divisive styling. Nakamura cautioned that he 'cannot say too much' on the look of the next Juke, but the car won't simply be a rehash of the existing car.
Instead, it will be 'innovative and exciting' and 'inherit the spirit' of the current Juke. It's set to be previewed 'soon' at an international motor show.
The creative chief also gave pointers about the next-generation Nissan GT-R. It's unlikely to take inspiration from Nissan's racing GT-R LM Nismo, despite the clear family ties, but the current GT-R's glasshouse, as well as its grille and taillights, are all considered iconic elements that define the car. Nakamura does praise LM designer Ben Bowlby however, suggesting the two 'share some common ideas'.