Saab 9-3 production re-started
Production of the Saab 9-3 has re-started at the Trollhattan factory, as new owners prepare for new electric model in 2015. Details here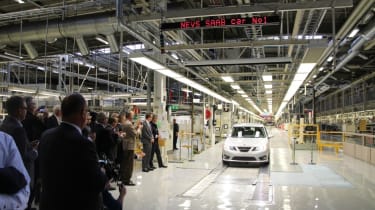 Saab has officially restarted production at its Swedish Trollhattan plant, with the lightly revised 9-3 rolling off the line for the first time since April 2011.
After going bankrupt December 2011, the various Saab assets were purchased by National Electric Vehicle Sweden, which is owned by Chinese investors. Although the 9-3 is badged as a Saab, the new NEVS company is not allowed to use the iconic Griffin badge due to licence restrictions.
Designed to simply get the factory and suppliers back into working order ahead of full-scale production, the 9-3 will feature the old 2.0-litre turbo petrol engine. NEVS plans to launch an electric 9-3 model for the Chinese market in 2014, with an all-new model based on Saab's Phoenix architecture by 2015.
The Phoenix architecture was almost ready for production, but will now require significant redevelopment work to remove any General Motors technology, which makes up 20 percent of the platform.