Saab 9-3: Saab goes all-wheel drive
Saab adopts all-wheel-drive system on revised 9-3 range. The new cars will also get a 296bhp twin-turbo V6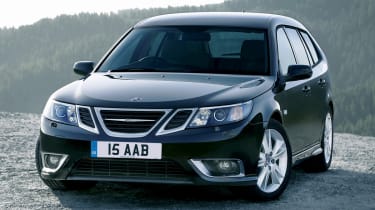 fter struggling with front-wheel drive for so long, Saab has finally acknowledged the shortcomings of the layout when it comes to transmitting 250-plus turbocharged horsepower to the road while steering at the same time. It has announced that it is to introduce a Haldex-based all-wheel-drive system on its top-of-the-range 9-3s.
The change will come when the revised 9-3 range arrives in the UK in September. All the current engines will be available, but with the addition of a new, 296bhp, twin-turbo V6 range-topper that will be good for a speed-limited 155mph and a sub-6sec dash to 60mph. There will also be a high-performance sequential twin-turbo 1.9-litre diesel in the range, with four-wheel drive to help it cope with 178bhp and over 300lb ft of torque.
On the outside Saab has re-introduced the classic clamshell bonnet (a Saab signature much- missed in recent years) and has given the front grille a more aggressive design, while all cars will get trick white tail-lights like those seen on the current estate versions.
Disappointingly, the current interior – one of the weakest areas of the 9-3 – will be carried over to the new model. We'll have to wait until the all-new 9-3 arrives in 2010 before this finally gets revised.