'In a moment of white-hot clarity my brain calculated McRae would be apexing precisely where we were standing'
How a close encounter with Colin McRae left a lasting Impreza impression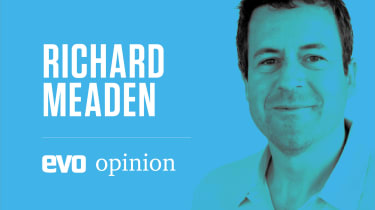 Aside from the rare pleasure of driving a 22B for issue 282's cover story, getting back behind the wheel of a late-'90s Subaru stirred some very welcome memories. Securing an exclusive UK first drive of the 22B for the very first issue of this magazine back in 1998 was a highlight for obvious reasons. However, it's a memory from the year before – when spectating on the 1997 RAC Rally with a mate – that's my ultimate Impreza moment.   
The ditch wasn't very deep, or indeed that wide. But then the forest track that it fringed looked almost straight to me, so I was sure we'd be fine. It had taken us about half an hour to get there, hiking from a car park through the endless pine trees, shoulders hunched against the biting November cold. 
Despite the remoteness of the location we were far from alone, gaggles of other people trudging through the woods in the same direction, bobble-hatted zombies in a scene from The Walking Dead. Some were more prepared than others, stout hiking boots finding purchase on the slippery ground, shooting sticks and umbrellas tucked under arms, rucksacks packed with Thermos flasks and sandwiches. Others slithered along in trainers and lightweight jackets, cursing their inadequate kit, but too wet and muddy to care.
> Driving Colin McRae's Subaru Impreza S3 WRC 97
By the time we emerged onto the forest track there were several hundred of us. A ragtag and slightly bedraggled army, we marched along the hard-packed and heavily cambered gravel road, animated chatter and the occasional burst of raucous laughter rising above the squelch and scuff of our collective footfall. 
At strategic points along the way we'd pass small huddles of marshals dressed in brightly coloured waterproofs. Hoods up, attention divided between the crackle of a walkie-talkie and eyes focused back down the track, they hurried us along with encouraging banter, telling us to stay sharp as we had ten minutes to find our vantage points.
We pressed on, jogging the last few minutes until we reached what looked like a prime place to watch. Slightly out of breath and now overheating thanks to the exertion and the insulating effects of heavy coats and hats, we shrugged off our rucksacks and got into position in the gully, smothered by an ear-straining silence. 
The shrill blast of a whistle cut through the quiet. Then another whistle, followed by what sounded like distant gunfire. The atmosphere crackled with energy. He was coming…
The blue Impreza smashed into view 100 metres to my right. When we picked our spot the track appeared to scribe the faintest of arcs towards a vanishing point where the ditch and trees converged, but now, closing on us with shocking speed, 'P12 WRC' was already pitched at an improbable angle, front wheels steering right, nose pointing left, throttle pinned to the boards, Colin McRae plotting a trajectory between the trees with a steadfast quarter-turn of opposite lock. 
In a moment of white-hot clarity my brain calculated McRae would be apexing precisely where we were standing. In that same moment his steely, thousand-yard stare burned straight through me while Nicky Grist's head stayed down, buried in the pace notes. With no time to move there was little choice but to breathe in and hope for the best.  
In a blur of blue and yellow accompanied by clattering stones, the Impreza ripped by without a lift, another gunshot signalling the upshift into top gear as the car straightened up and disappeared from view even more rapidly than it had appeared. It was so close I swear I felt the heat from the engine, brakes and exhaust. 
Looking back up the stage, a perfect set of tracks scribed four lines in the pristine gravel, from the far right of my peripheral vision to less than a metre from where my boots were planted in the gully, then drifting back out to the far edge of the track another 100m or so to my left.
Buzzing with a euphoric mix of adrenaline and near-miss giddiness, we whooped and hollered at the absurdity and intensity of what we'd just experienced. Yes, we'd been fools to stand where we did, but the lasting significance of that point-blank experience was unequivocal, even as we hastily clambered out of the ditch and up the bank before the next car came through.
We stayed to see the top 20 cars through the stage, but no one attacked 'our' kink as quickly as Colin. Nor did they use quite so much of the gully. I never met him, but briefly serving as Colin's organic apex marker surely told me more about the most exciting driver of his or any other generation than any stilted interview opportunity. It also cemented my love of the Impreza. Those were indeed the days.