The Subaru Impreza's bonnet scoop - Art of Speed
Can the mighty Subaru Impreza be distilled into one part? We think so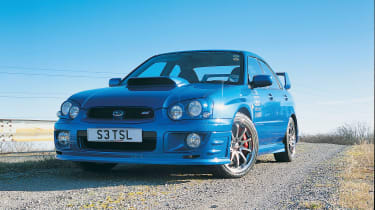 Subaru's Impreza is a phenomenon, plain and simple. For starters, no car has ever been quite so happy to hand out hidings to machinery beyond its price bracket. The RB5 cemented that perception with a third-place finish at eCoty 1999, seeing off a BMW M5, an Aston Martin DB7 and a Nissan Skyline, amongst others. Things had changed little eight years later, when an STI Type UK met a Gallardo Superleggera on the roads of Snowdonia (evo 115) and made the V10-engined supercar work very hard indeed. The latest Imprezas are a tad malnourished compared with their competition, there's no denying that, but over the years the performance has nearly always been addictively potent.
And then there's a culture – all the variety and the pedantry – that serves as a confusing but equally fascinating microcosm for those on the outside. So nuanced is the Impreza back catalogue that it's possible to become hopelessly ensnared in the fog of Type RAs, PPP 250s, V3 Type R V-Limiteds and, who could forget, WRX STI S201s. And when tracts of a person's driving life are lost to the cult of Scooby, the wider four-wheeled world, with all its mouth-watering temptations, can cruise by unnoticed.
> Subaru Impreza WRX STI Type UK v Lamborghini Gallardo Superleggera
A religion to some, then, fittingly the Impreza has its own symbolism. The honest silhouette of the orignal has proved far from sacrosanct, evolving from saloon to hatchback and back again, so it isn't that. The wing, you might have noticed, has also 'matured', so that's out. And the WRC connection, once so strong, is now dead in the water. But a massive scoop built threateningly into the aluminium bonnet? Pretty much unchanged.
The scoop feeds an intercooler mounted high at the back of the engine bay. This isn't an ideal position for an intercooler, but for the original Impreza Turbo's quad-cam boxer it sufficed. With 75 per cent of the intake sustaining the intercooler and the rest shuffling air to the turbo, the 1994cc engine made 208bhp; Prodrive later teased out 276bhp for the rabid P1.
Imprezas became even faster, but the intercooler remained in situ. And while the scoop grew with time, this wasn't always the plan. The reason it lurches like Hokusai's Wave on some second-gen cars, for example, is because Subaru execs were forbidden from flying in the wake of 9/11. Because of this, they never made the journey from Toyko to Norfolk to green-light Peter Stevens' less ostentatious but more aerodynamic proposal for the post-'bugeye' facelift. Allegedly Stevens was a bit peeved, but presumably not as peeved as he would have been had Subaru been left to design the rest of the car…