1000 miles in a Subaru Impreza RB5 – evo Archive
To Munich and back in a day for a photoshoot provided an unforgettable RB5 initiation for Stuart Gallagher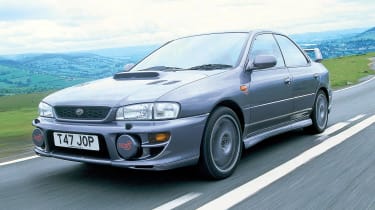 You know Stuart Gallagher as the current custodian of the editor's red pen at evo. But this is not Stuart's first stint on the mag. A younger, marginally more hirsute Gallagher was evo's first staff writer (an HR-friendly way of describing the office's general dogsbody) back in the late '90s. This position, as I know full well, often involves doing the drives that nobody else is young/stupid enough to undertake. 
One such drive for Stuart was for a twin test in issue 008 that pitched a new Audi against a new Subaru. Stuart takes up the story of how he and photographer Gus Gregory drove 1000 miles and bagged a 12-page feature in a single day…
'It started at Gus o'clock – 3am – leaving his home in Surrey and heading for Germany via the Eurotunnel. We were meeting evo's ace tab poacher, David Vivian, who would be landing in Munich to collect the new Audi S3. Gus and I were in the equally new Subaru Impreza RB5. So new that Prodrive had only completed its preparation the previous morning and the adhesive used as additional bonding for the rear spoiler to the bootlid was still a few hours from hardening when the car arrived at evo Towers.
> Mercedes‑AMG A45 S v Subaru Impreza WRX STI S209
'Europe was different in the late '90s and you could cover considerable ground in a considerably short period of time, which is why we were skirting around Frankfurt and catching its morning rush hour only a few hours after emerging from the Eurotunnel. A couple of hours later we were in Munich, having received a text message from the office saying that Subaru had been in touch to ask if we could avoid any max speed runs because some of the RB5's new aero fixings hadn't been signed off yet.
'It's when we were waiting for Viv and enjoying some caffeine at Audi's customer centre at Munich airport that we decided to turn around and head to the Black Forest to do the shoot. Yes, the Black Forest on the French border, some 250 miles back in the direction we had just come from. It made sense to Gus and me because we'd be closer to home when we finished the shoot and, this being the last Friday in July, the roads were expected to be busy ahead of the August holidays. If only we'd had this idea several hours and a couple of hundred miles ago. 
'By the time we arrived at the location we were already 620 miles into the day and it was only just lunchtime. Little wonder that by mid-afternoon Gus had launched his camera case – still with his kit in it – off the side of the road and into the forest. That shutter release cable never did work properly…
'His mood wasn't helped soon after when a group of bikers parked their midlife crisis Harleys in the exact spot Gus wanted to take a static shot. He did, however, deal with this situation with impressive diplomacy. He even ascertained that they were bankers. Well, I think that's what he said.
'Shoot done, Viv hotfooted it back to Munich just in time to miss his flight home, while Gus and I were stopped at the Eurotunnel by UK customs, who asked me for the paperwork for the RB5, which of course I didn't have. And Prodrive and Subaru had gone home by the time I called. Customs were also intrigued as to why gaffer tape was being used to hold the rear spoiler in place…
'Eventually we were allowed on a train, I dropped Gus home and then completed the last 70 miles in time to arrive for last orders. A longer than usual day, but it was worth every wave of exhaustion to spend time in that RB5, which remains one of my all-time favourite cars I've driven at evo. It was, and I suspect still is, an extraordinary machine. Where are you now, T47 JOP?'