'In-demand cars have become commodities, but if you've missed the boat, it sucks...'
These days if you're searching for performance bargains you need to think big, reckons Meaden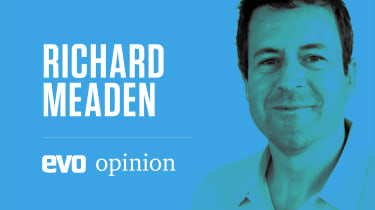 There was a time when we bought cars safe in the knowledge that they would lose money. It was just a fact of life. Still is with the bread-and-butter stuff. But with money in the bank earning zero interest, in-demand cars have become assets and commodities. Much like buying your first house, this is all well and good if you're on the ladder, but if you've missed the boat, it sucks.
Fortunately salvation is at hand, but only if you're prepared to look where depreciation remains at its most savage. I'm referring, of course, to the particular joy and wonder of the used luxury supersaloon or coupe. Not evo's heartland admittedly, but the thrill you're chasing here is the gleeful satisfaction of getting lottery-win metal for lottery-ticket money, and, most likely, a car powered by a potent, big-capacity, multi-cylinder engine that laughs in the face of downsizing.
Given the potentially ruinous cost of fixing a stinker, it's a chase not without risk. Yet there's surely no better sport than trawling the online classifieds for one of these big beasts. Considering their makers intended them to be exclusive, high-end machines for luxury-loving plutocrats, the price of membership to this once-elitist club can be unbelievably low. Like £5k low if you're brave, prepared to stray from the obvious choices and have a bit of a fixation with VW Phaetons, as I do. You won't find a unicorn W12 for that money, but the V10 diesel is a cool consolation prize.
Of course, as with any budget-restricted activity, it's always tempting to take a peek at what you can get for a bit more money. Fortunately, with this game the stakes remain rooted in the real world. For example, £10k will potentially see you in a host of heavyweights, from old six- and eight-cylinder supercharged Jag XJRs, to the odd immaculate 750i Beemer and maybe even an 850i if you fancy one of BMW's '90s land sharks.
Creep to £15k and things get interesting. Audi's S8 has always been a sleeper. Never more than when it featured a version of Lamborghini's 5.2-litre V10. No, it's not a Gallardo, but it goes like stink, sounds like a muted noughties F1 car and is built with Audi's beady-eyed attention to detail. How much? The cheapest, but by no means scruffy and neglected examples, sit at a little under £14,000. That's half the price of a Golf R for an all-wheel-drive, 450bhp saloon built around a bespoke aluminium structure with genuine exotica in its DNA.
For similar cash you can get your hands on a good Maserati Quattroporte with full history. Or a tech-laden all-wheel-drive Lexus LS600h petrol-electric hybrid. A bit leftfield and worthy? How about a gas-guzzling S55 AMG? Or if that's too limo-like, the same money will buy you a CLS55 or E55, which are also propelled by Affalterbach's sledgehammer supercharged 500bhp V8.
Raise your stakes to £20k or thereabouts and you might as well be a millionaire, such is the ridiculous array of machines within your grasp. Had I not seen them with my own eyes I'd never have believed you could find Bentley Arnage Red Labels for this money, but they're there if you look for them. Big, beautiful, under-stressed and over-engineered, these magnificent brutes feature Bentley's legendary turbocharged 6.75-litre V8 and offer a truly magical driving experience.   
For some, however, only the very best will do. I once met a man who exclusively bought V12-engined cars. He was an ordinary bloke indulging extraordinary tastes by happily sinking his hard-earned cash into a succession of bargain-priced flagship Mercs and BMWs. Saloons or coupes, he wasn't bothered. Just as long as he was sitting behind a dozen purring cylinders he was sated. And who could blame him, when for the price of a new tin-can hatchback he was enjoying the charms of a BMW 850i or 600 SEL.
Sadly, opportunities to own truly cheap V12s are getting slimmer by the year, but at the time of writing there are still some horribly tempting cars out there. Albeit at the upper end of the aforementioned budgets. Still, if you're going to go big, you might as well go really big, which is why I'm a little itchy at having found a 2004 CL65 AMG lurking in the classifieds.
Yes, a smidge under £25k is a chunk of change for a 13-year-old, 100,000-mile Benz, but from first-hand experience I know this spaceship of a coupe is the absolute daddy. I mean, tell me where else you could buy an apparently immaculate car with 604bhp, 738lb ft of torque and that's one of just a handful in the UK for that kind of money? Apart from the four-door S65 I've just found with half the miles for £19k. If 2018 doesn't see me smoking around in something vast (and fast) it'll be a bloody miracle