Devoted to the 'thrill of driving', evo puts the reader behind the wheel of the most exciting cars in the world with professional car reviews, exciting adventures and dynamic group tests.
Up-to-date news, opinion, technology and buying guides complete the evo proposition.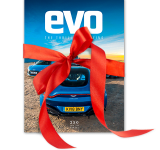 Subscribe to evo magazine
If you're passionate about the world's greatest performance cars, experience the thrill of driving with evo magazine. Try your first 5 issues for £5.
evo magazine was launched in the UK in November 1998, but since then has become a truly global brand licensed editions around the world.
In the digital space, evo.co.uk delivers sports, performance and premium car news and reviews to a rapidly growing audience. 
For editorial enquiries, contact eds@evo.co.uk.
------------------------
Dennis Publishing Limited and/or members of its group are the owners or the licensees of all intellectual property rights in this website, and in the material published on it.
Registered office: 31-32 Alfred Place, London, WC1E 7DP.
Registered in England with company no. 04016750 and VAT no. GB 494 6163 17.