'The thought that I could well have been to my last Geneva motor show is decidedly sad'
The car world will be a less colourful place if motor shows are driven to extinction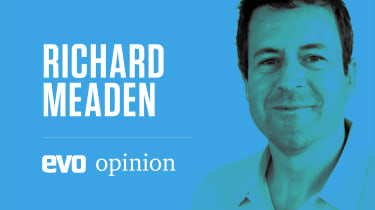 That the 2021 Geneva motor show has already been cancelled isn't a huge surprise, but it does reinforce my feeling that one of the most dynamic and colourful industries is becoming greyer and more homogenous by the day. I am by no means an 'industry' journalist. I don't enjoy interviewing car company bosses, pay little attention to the way the global automotive business functions and only glance at news pages when there's nothing else to read in Meaden Towers' throne room. This should mean I couldn't give two hoots about the demise of a motor show, yet the thought I could well have been to my last Geneva show – perhaps my last motor show full stop – is decidedly sad.
Geneva was special for lots of reasons. The ritual gathering. The sense of occasion and shared experience. It had an energy about it. If you attended at the invitation of a manufacturer it usually meant driving out from the UK in something nice and staying in one of the swanky lakeside hotels, each with criminally cranked nightly tariffs during motor show week. If you went on your own ticket it usually meant a red-eye SleazyJet flight and, if you were lucky, a night in a cruddy (but still extortionately expensive) hotel next to the railway goods yard. But still you went.
Mercifully, because I've rarely engaged in news gathering I never went to Geneva filled with dread. Not for me the writing of a hundred news stories. Nor fighting my way onto slowly revolving turntables in an attempt to deliver a piece to camera while a Chinese engineer with industrial espionage on his mind barges me out of the way. Dodging those bullets means I've had the luxury of enjoying Geneva more as a car enthusiast would, with wide eyes, aching feet and the buzz of seeing new supercars unveiled, just as visitors clamoured to see the world debut of the E-type or Miura half a century ago. Along with the history and glamour, Geneva also has quirks. The weirdness lurking on the Rinspeed stand. Automotive atrocities perpetrated by Mansory. It's all part of the fun.
> Mansory Cabrera turns Lamborghini Aventador SVJ up to 799bhp
So what will replace Geneva? Or indeed the other few remaining blockbusting motor shows that will almost inevitably fall by the wayside? Chances are journalists will henceforth endure an endless succession of stilted and soulless 'virtual' launches. And because no motor shows means no motor show calendar, they'll be happening continually throughout the year. Manufacturers and publishers will love the idea of this. Less expense and greater share of voice for the former; cost savings and a means of sidestepping the feast or famine news cycle for the latter. Freelancers will also say it makes far better use of their time, as they can 'attend' from home. Me? I'd rather be sentenced to death by a thousand cuts. After four months of endless Teams, Zoom and Google Meet gatherings I need more time in front of my laptop like I need a hole in the head. Assuming we ever escape the clutches of Covid-19, a professional life spent logging in to virtual events strikes me as profoundly depressing.
The great thing about actual motor shows is you can touch, feel, smell and sit in actual cars, talk to actual people and read the room for a barometer of how 'Car X' is being received. Then 20 minutes later you get to repeat it with another car. And another. And another. Followed by dinner with your colleagues while you let the whole experience percolate through your brain. What was so wrong with that?
It saddens me that car companies and motoring media have committed fratricide against motor shows. They weren't perfect and undoubtedly cost exhibitors a fortune to attend, though given big car companies are compulsive willy wavers they can't help but spend fortunes trying to outdo one another. Perhaps if those same manufacturers hadn't also abused and undermined the purpose of exhibiting at or attending a show by conducting endless teaser campaigns – with all the information and images issued in advance under embargo – the shows and the content they generate would have remained compelling. Instead, shows have been consigned to peddling yesterday's news.
Regular exposure to impressive things inures you to their impact. Doubtless if I was riding the motoring media merry-go-round I'd be jaded by attending Another Bloody Motor Show, but that betrays a blinkered, selfish view which ignores how those same shows are a rare opportunity for thousands of regular car enthusiasts to get close to metal they would otherwise never see or engage with.
I'm increasingly cynical about most things car-related, but I always found it impossible to stand on a balcony in one of Geneva's huge Palexpo halls and not be awed by the spectacle of an entire global industry laid out before me. If we really have seen the end of Geneva, and the international motor show in general, then I think we'll come to realise we are ultimately the poorer for their demise.