C'était un Rendezvous
Purchase the iconic C'était un Rendezvous DVD for the special price of £9.99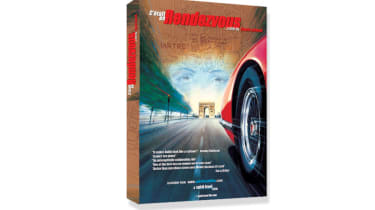 You'd be hard-pressed to find a film as steeped in myth as C'était un Rendezvous. Absolutely compulsive - this astonishing, exhilarating and now legendary drive through a beautiful 70s Paris with its surprise ending has been enjoyed for many years as an almost Masonic secret among enthusiasts.
View a video taster of C'était un Rendezvous
Filmed in 1976, the revered short film by seminal French director Claude Lelouch is regarded as the ultimate in chase scenes - the connoisseurs' trump card in response to Bullitt or The French Connection.
Lack of availability has only fuelled the myths surrounding the film.
• Was Lelouch really arrested when it was first shown?• Who drove the car? • Was it Lelouch or a hired Formula One driver? • What was the car? • Was it really a Ferrari 275 GTB?
And so on...
What we do know is that there are no special effects, speeding up the film or blocking off the streets. Lelouch simply mounted the camera on the front of the car and takes us on an astonishing, death-defying drive through the streets of a beautifully filmed 70s Paris with a glorious soundtrack provided by the engines' wail, tyre squeal and roar of the exhaust.
Richard Symons, a documentary film maker with more than a passing interest in fast cars, managed to acquire a very poor 2nd generation VHS copy. He wasn't disappointed…
"I'd never seen anything like it, nine minutes of adrenalin that simply leaves you with your jaw on the floor. Lelouch was supposedly arrested the first time he'd shown the film and then it simply dived underground. To cut a long story short, I tracked down the director, we dusted down the original 35mm negative, restored and re-mastered it for release. We've brought back all the details and colours and it looks stunning." Over the years, C'était un Rendezvous has come to represent something more than an adrenalin rush. It uniquely captures a time and a spirit that seems a long way away from today.
Politically incorrect, anti-establishment and overflowing with a primitive passion - it is everything the bureaucrats hate. Which perhaps explains the cheers and whoops of delight at recent screenings. Lelouchs' brilliant ending only adds to this - making a beautiful sense out of the preceding nine minutes.
Normally this DVD retails for £14.99 but evo hass managed to secure a special price of £9.99. To own this iconic and unique DVD, click here and enter EVO1 in the coupon code. You won't be disappointed.
Extra Info
Specifications