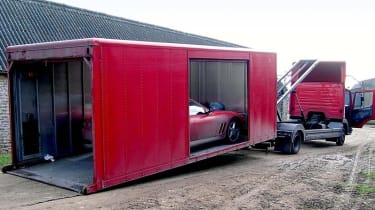 It's disappeared again, with just an empty space in the garage to serve as a reminder that the big Fiat is back in Ferrari la-la land. It was supposed to be just a routine visit to Dick Lovett's for a 40,000-mile service. That was six days ago... OK, I'd asked them to tackle a few extra jobs while it was in - new brake pads, new wipers, realign the driver's side window seal and investigate the occasional knocking of exhaust against body that had first appeared when the new gearbox was fitted - but even so, I wasn't expecting the 550 to disappear for a full six days, and counting.
It's my fault, really. I should have reminded them that this particular Ferrari gets used every day and is not some pampered four-wheeled pet that never gets driven unless it's at least 20 degrees outside.
Being Ferrari, there's no BMW-style while-you-wait or courtesy-car service on offer, just a collection and delivery service, but then I suppose no-one has a Ferrari as their only car. There are certainly more people using their Ferrari as their main car now, though. Dick Lovett's looks after a couple of 360s that have both covered over 70,000 miles, and I've seen a two-year-old 575 elsewhere with over 40,000 miles on the clock, so I guess I can't be the only one who finds this drawn-out servicing time a pain. At least with service intervals being 12,500 miles apart I don't have to go through the enforced separation too often, but it shouldn't take this long to service any car.
Before it went off, the Ferrari was running extremely well. The new Michelin tyres had bedded in, but while they offer smoother, quieter running, I'm finding they don't offer quite the same grip as the Pirelli P Zeros, especially in the wet. It'll be interesting to see if this translates into dramatically better wear characteristics, but then finding out depends on getting the car back again. I live in hope...
Stop press! It's back! After seven days of spannering, the 550 has been returned, together with the mother of all bills. £3696.56 to be exact (labour came to £2219.58 alone), which I reckon is a monster amount for what was little more than a routine service plus fitting front pads (£329) and wiper blades (£67).
While I go off for a lie-down, please email us at fastfleet@evo.co.uk if you've ever experienced a similar shock when presented with a service bill. I'd like to know what car not to buy next.
Running Costs
| | |
| --- | --- |
| Date acquired | December 2004 |
| Total mileage | 39,340 |
| Costs this month | £3696.56 |
| Mileage this month | 880 |
| MPG this month | 16.4mpg |