If the 1980s and 1990s gave the world some fantastic front-wheel-drive performance cars, then evo's February 2000 cover was evidence that the new millennium would be just as good.
Sitting alongside each other were the first-generation Renault Sport Clio 172, and the Ford Racing Puma. While the Clio took a little while to worm its way into our hearts – back in the day, we'd still have picked a Clio Williams for a thrash along a twisty road – the Racing Puma was an instant hit.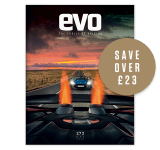 Subscribe to evo magazine
Subscribe today to have every issue of evo delivered straight to you. You'll SAVE 39% on the shop price, and get evo for its original cover price for a whole year!
Powerful it wasn't, but the handling was razor-sharp and the styling a real triumph, turning the pretty but petite standard car into something more racy and voluptuous.
While standard Pumas still languish at the bottom of the used performance car pile in terms of pricing, Racing versions have sailed past the lower end of their depreciation curves – they were as low as £5000 for a while – and are now a couple of years up the other side. But they're sure to go up further, so if you're interested, read on to find out more, and get that wallet ready for one of the most engaging front-drivers we've tested.
Ford Racing Puma in detail
It's hard to believe even the standard Puma was based on the contemporary Ford Fiesta, but sit a frumpy-looking Mk4 Fiesta next to a Racing Puma and they might as well be from different manufacturers.
> Ford Puma - review, history, prices and specs
Actually, in a way they are, as Racing Pumas weren't built on the standard assembly line, but instead put together by Tickford. At the time best known for the Tickford Capri, the company was responsible for putting into action plans drawn up by Ford Racing and endowing the Puma with considerably more attitude.
The greatest difference between the regular Puma and the Racing is its track: the new car was 70mm broader at the front axle and 90mm at the rear. To prevent the wheels protruding like those of a Hot Wheels car Ford Racing also redesigned the bodywork, adding 100mm to the car's arches and altering the front and rear bumpers to take account of this change. Those at the front were aluminium and replaced the standard components, while at the rear new steel panels were bonded over the existing rear wings – something that has subsequently compounded the Puma's well-known rusting issues.
Where the regular Puma used 15-inch alloys, the Racing Puma's multi-spoke Speedline wheels swelled to 7.5 x 17in, each wrapped in a 215/40 R17 Pirelli P7000 and hiding upgraded brakes. The effect, once painted in a coat of 'Ford Racing Blue', was stunning – few cars this compact have so much presence, even today. The interior was less of a change from standard, but a set of Sparco seats and lashings of blue Alcantara elevated it above common or garden Pumae.
Much was made at the time of the Racing Puma's lack of power, and today an output of 153bhp sounds pretty anaemic, even in a car weighing in at 1174kg. The method of extracting it from the Yamaha-developed 1.7-litre four-pot was pleasingly old-school, though, with new camshafts, a new inlet manifold, and tuned exhaust with high-flow catalytic converter. It was revvier than the standard unit and accessed via short gearing and a shift slick enough to give Honda a fright.
Ford originally planned to sell 1000 Racing Pumas, but it was severely hampered by high pricing: at £22,750 on the road the Racing was nearly £10,000 more expensive than a standard Puma and as much or more than some serious performance machinery. A contemporary Impreza WRX was £21,995, a Honda Integra R only £20,500 – and if you stretched only a little further to £22,995, you could have put a Lotus Elise on the driveway. In the end, Ford made only 500 – but that rarity has paid dividends for their current value; as of 2018, you could pay £15,000 or more for a good one.
| | | |
| --- | --- | --- |
| | Puma 1.7 | Racing Puma |
| Engine | 1679cc | 1679cc |
| Max power (bhp @ rpm) | 123 @ 6300 | 153 @ 7000 |
| Max torque (lb ft @ rpm) | 116 @ 4500 | 119 @ 4500 |
| Weight | 1041kg | 1174kg |
| Power-to-weight | 120bhp/ton | 132bhp/ton |
| 0-60mph | 9.2sec | 7.9sec |
| Top speed | 126mph | 126mph |
What we said
evo 016, Driven (February 2000), Richard Meaden
'Just like the standard car, the Ford Racing Puma feels utterly together, the chassis always remaining smooth and unflustered, the engine razor-sharp and the power perfectly metered. The handling is deliciously fluid and malleable, allowing you so many options on the way in, through and out of the corner that you can always adjust the attitude of the car to suit the circumstances.
'In the thick of a relentlessly testing road, I can't think of another car that delivers such a feeling of oneness, feels so utterly planted or allows you to attack with such ferocity and unflinching confidence. It's a pint-sized Porsche GT3, a bonsai RB5. If it had come from hot-hatch stock it would be hailed as the greatest GTi ever created.'
evo 140, Sublime Specials (February 2010), Henry Catchpole
'With a hike of just 30bhp, this is no Focus RS approach to creating a fast Ford, but while its outright pace might not make the Racing Puma memorable, its handling certainly does. The nose reacts Elise-like to the slightest twitch of the wheel, darting around even in a straight line on the bumpy Sussex roads. In the corners the front feels so stiff and remains so flat that there's almost zero progression in the wet.
'It feels like the car is trying to pivot around the blue oval on its grille and grip becomes understeer becomes lift-off oversteer in rapid succession. Happily, with such instinctive steering it's easily catchable, but it leaves you in no doubt that this Puma was designed with a circuit in mind.'
What to pay
Racing Puma
Excellent: £13,000+Good: £10,000+Average: £7,000+Project: N/A