Affordable exotics. An oxymoron, perhaps, but it takes just one stroll around Ford's Racing Puma to realise there's merit in the term. Two decades on from its unveiling, its curvaceous rally-style arches, Imperial Blue paintwork and nose-down stance still pack more desirability and attitude than nearly any similarly small car before or since. I'm beginning to wonder whether the Clio Trophy parked nearby – a car I already covet – is in the same league.
Both are models that transcend their runabout beginnings through factory modifications as profoundly effective and character-changing as those of any Pista-striped Ferrari or RS-scripted Porsche. Little is left off the table, from bespoke bodywork to supercar-spec dampers. The Clio Trophy, born in 2005, was the ultimate incarnation of the original Renault Sport Clio, a car that debuted in 172 form in the same year as our other contender (and appeared on the same evo cover). There had been a decontented Cup variant of the Phase 2 172 in 2002, and the more powerful 182 arrived two years later, with a Cup chassis option to sharpen up that car, but Renault went the whole cochon with the Trophy.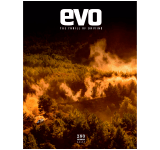 Subscribe to evo magazine
Subscribe today to have every issue of evo delivered straight to you. You'll SAVE 39% on the shop price, and get evo for its original cover price for a whole year!
Externally, it gained a coat of Capsicum Red paintwork, a Clio V6-derived rear spoiler, Trophy decals along the sills and a set of Speedline Turini alloy wheels, while a pair of part-leather, part-Alcantara Recaro front seats helped lower the standard car's lofty driving position, if only by a touch. Mechanically the 2-litre F4R unit was unchanged, and Renault opted not to fit a limited-slip differential alongside the five-speed gearbox.
It was instead the chassis that defined the Trophy. Cup specification already came with stronger front hubs and lower suspension, but it's the Trophy's dampers that have since become the stuff of legend. Built by Sachs, they were said to cost ten times the price of the regular Cup dampers, and if that change wasn't reflected in the car's price in 2005 (£15,500 to the 182 Cup's £13,800), its impact is clearer to see on the used market.
The dampers' remote reservoirs meant increased fluid capacity and better heat dissipation, allowing a higher work rate than the standard units. This in turn allowed for a thicker damper rod and, with the inclusion of hydraulic bump stops, a further 10mm could be cut from the ride height. Renault built 500 Trophys for the UK initially, plus a further 50 for the Swiss market, with individually numbered plaques affixed to the seat rails.
Ford sold 500 Racing Pumas too, each car's number (in this case no. 1) proudly displayed on the cast aluminium inlet manifold cover, though that figure was only half the run originally intended, and today only around half of those built still exist, their increasing rarity linked to their inconvenient habit of dissolving like a 1970s Alfa Romeo. But the problem initially was price. In 2000, a regular Ford Puma would set you back an extremely modest £14,995. The Racing Puma was rather more: £22,750, plus another £250 if you opted for the limited-slip differential. For context, a Honda Integra Type R was £20,500, an Impreza Turbo £450 more than that, and even a Lotus Elise only £22,650. In terms of bang per buck, Ford's Fiesta-based special barely registered a sizzle.
Unless you caught sight of one, that is. Rarely has such a humble car enjoyed so much engineering focus. The conversions were undertaken by Tickford Vehicle Manufacturing. Popularly known for dubiously styled Capris in the 1980s, the engineering firm's more relevant experience included the Sierra RS500 and the monstrous, if short-lived, RS200 Group B car. Tickford started with a standard Puma, replacing its steel front wings with aluminium items to cover a track widened by 35mm each side. At the rear, steel panels were bonded and welded over the existing bodywork (later the source of many of the Racing Puma's corrosion woes) to cover an even wider stance, this time by 90mm in total. The front and rear bumpers were also redesigned to match, the front item incorporating a largely aesthetic, carbonfibre-effect splitter.
Some of the extra width beneath the wings was absorbed by 7.5-inch-wide 17-inch Speedline alloy wheels wearing 215/40 Pirelli P7000 tyres, but the increased tracks meant longer suspension arms were required. Springs and dampers were by Eibach, while braking was handled by uprated Alcon discs and calipers, 295mm at the front and 270mm at the rear.
New camshafts, new intake and exhaust manifolds, a Janspeed exhaust and an ECU reflash raised the power of the Yamaha-developed 1.7 from 123bhp to 153bhp. In contrast to the Puma's styling, this output was as modest in 2000 as it sounds today, while cost constraints meant that the Racing's blue Alcantara retrim and Sparco seats were the only internal changes.
Today, it's enough to leave me weak at the knees. While the Clio, ultimately, looks like just another mid-noughties hatchback, the Puma looks part Super 1600 rally car, part Targa Florio racer; painted another shade, it could pass for something built in the 1960s by Zagato or Abarth.
Climb inside and the coachbuilt-sportster feel continues. The Puma is tiny by modern standards. Twice I bash my head just climbing through the ovoid door aperture, and the low roofline seems only inches from your temples despite sitting low in the supportive Sparcos. The Fiesta-derived dash may have been disappointing at the time given the car's price, but today it contributes to a pleasingly simple driving environment. The little aluminium gearknob remains one of the most tactile objects in any vehicle.
The 1.7 releases a burst of energy on start-up before settling to a hum. This is the first and only time it feels refined. Anything north of idle and it's raspy and raucous, totally at odds with the micro-exotic styling. I'd expected noise and modest performance, but it's still a shock, the four-pot far from sweet as it homes in on the 7000rpm mark, and failing to come alive in the upper reaches of the dial. Where is the free-revving, rev-hungry unit I've read about all these years? In truth, I'm not sure Ford's heritage fleet car is entirely healthy – its life involves long periods of inactivity between short flurries of hard use – and nauseating whiffs of unleaded accompany my drive. 
Suffice to say the Puma's performance doesn't instantly grab me, but there's still plenty else to like. The gearchange, for one thing – perhaps the slickest, most precise I've experienced in a front-wheel-drive car. It's perfectly matched to a light clutch and, for those all-important downshift blips, a brake pedal of wonderful firmness and feel. Lifting off the accelerator is accompanied by a metallic popping on the overrun, and standing on the stoppers has that splitter skimming the tarmac, tyres squealing in torture without ever troubling the ABS.
The chassis has the kind of limits that egg you into tackling a corner faster and faster just to figure out whether it'll ever come unstuck. On one downhill left-hander, the Puma tracks through without drama at a speed I don't think I've ever deliberately replicated in anything else, and then does it again a few miles per hour faster the next time I tackle it. And again. And then common sense prevails and I opt not to push my luck a fourth time.
Ultra-firm suspension and the wider track both contribute to the seemingly endless lateral G, but each axle will eventually move around with provocation. The front can struggle when the road is damp or when you unload it over cambers and crests, when the lack of roll and suspension travel don't allow the tyres to claw into the surface, while the rear – still essentially a torsion beam – can be coerced into rotating if you're brutal or unlucky. Such behaviour feels a little out of sorts for the Puma, though; its modus operandi is precision and momentum rather than expression. You get more than enough of the latter through the wheel anyway, as the steering is fabulous: perfectly weighted, ultra-sharp without being over-geared, and bristling with motion through the tactile blue Alcantara grips.
It's necessary as well as simply desirable, because on anything other than a perfectly smooth surface the Puma skips around like beads of oil on a hot pan. You know those cars that feel less hardcore today than they did a couple of decades ago? This isn't one of those. It's little wonder bits of trim are coming adrift after only 17,000 miles, a forewarning makers of some ultra-stiffly suspended modern cars should probably heed.
No such problems with the Clio, which feels like a model of sophistication after the rowdy Ford. Bumps that send the Puma's dashboard aquiver simply aren't registered by the expensively suspended and more tightly constructed Trophy, and while you'd never call the F4R 2-litre high-tech in comparison to say, one of Honda's VTEC fours, the lack of vibration and aural commotion feels stark after the Puma.
As does the performance. A few months back, in issue 253, the Trophy's 2-litre surge and snappy gearing kept the latest Fiesta ST honest, but yesteryear's hot Ford doesn't stand a chance. The Renault romps away like there's twice their thirty-horse gulf, and attempting to follow the Clio for our photographer's lens, the Puma driver has to be close enough to tune the Trophy's stereo from the second we set off to ensure he's still in touch by the time we pass snapper Parrott.
The Trophy carries its speed with ease too, keying into the surface like there's something considerably stickier underfoot than just crumbling asphalt and a set of Michelin Pilot Sport 3s. There's just enough pliancy through springs and seating that it's rarely uncomfortable, and there's little the dampers seem to struggle with. If the Puma goads you through sheer lateral grip, the Clio does it with spectacular competence.
It turns even tighter than the Ford too, leaning harder on the outside front and waving its inside rear tyre in salute to your steering inputs. Get on the power as early as you like – the front tyres seem to cope whatever you do, and if there's such a thing as doing so too early, the tiniest lift of the throttle will instantly hook you back into the apex.
You can certainly see that apex clearly enough from your perch. Next to newer hatches it doesn't feel so teetery, but compared with the low-slung Puma the Trophy's high-set Recaros and canted-back wheel feel more like significant flaws. The wheel's leather is nasty too, and its rubberised thumb-grips at nine and three would feel meanly sized even for Donald Trump. Just as well the information flowing through them makes more sense than one of his speeches.
Surprisingly though, the Puma edges the Clio for tactility in several areas: steering feedback and response, pedal feel, gearshift quality. I wasn't expecting that at all. Where the Clio scores is in its ability to maximise its abilities, excelling where the flustered Ford lacks the power and adjustability for the driver to express themselves. The Clio's rewards are ultimately greater and longer-lasting than the Puma's quick adrenaline hit, but there's no shame in coming second to a car like the Trophy. But there's more to it than that…
In the realm of affordable exotics, the Puma claws back ground. Where the Clio Trophy is an already excellent car rendered uniquely special through select component changes, the Racing Puma is a miniature exotic through-and-through. Rare, hand-built, and dripping with bespoke parts, it remains a deeply desirable object to this day.
After every frustrating, jerky, palm-moistening drive in our supercar test a few pages back, I'd step out of the Aventador SVJ, catch sight of its stealth-fighter styling and remember that searing V12, and start making excuses. Each time I step out of the Puma, bemused that it's been unable to match the workaday Clio on the road, the same thoughts come to mind. Affordable exotic? Sounds alright to me.