Ask any rally fan to name their favourite era and chances are that the wild Group B years will be at the top of most people's list. It was a time of uncompromising and completely unhinged machinery, with designers and engineers really pushing the envelope when it came to interpreting the rules and endowing these four-wheel-drive turbocharged monsters with the maximum possible performance. And with the rules stipulating 200 road-going examples of the rally cars had to be produced, the Group B era spawned some stunning road cars too. 
And perhaps the wildest of them all was Ford's RS200. Where the Audi Quattro, Peugeot 205 T16 and even the Lancia Delta S4 were very obviously derived from their more mundane production cousins, Ford took a different route, designing and building a Group B car that looked – and drove – like no other Ford before or since. It might have used 900 Ford production parts (out of a total of 2900) but it was wonderfully, outlandishly different from anything else you might have seen in a Ford showroom at the time.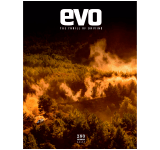 Subscribe to evo magazine
Subscribe today to have every issue of evo delivered straight to you. You'll SAVE 39% on the shop price, and get evo for its original cover price for a whole year!
Ford had, of course, been part of the rallying furniture ever since the rear-drive Escort made its debut, but as the WRC entered the Group B era it found itself without a machine to compete against the likes of the Quattro that was set to revolutionise rallying with its four-wheel-drive set-up. As you'll glean from the history section below, the RS200's gestation was not a smooth one, but once it arrived it could have been a force to be reckoned with had the tragic events of 1986 not unfolded, with the subsequent banning of the Group B machinery.
As it was, the RS200 wasn't a success on the stages during its only season in the WRC, but the road cars looked every bit as crazy as their rally equivalents and carried all the high-spec, durable hardware, too. Boost might have been turned down from the rally weapon's heady 444bhp, but with 246bhp and just 1180kg to haul around the RS200 was still a quick beast and an absolute hoot to hustle along, accompanied by an iconic turbocharged soundtrack of pops, bangs and whooshes.
The RS200 cost £49,995 in 1985. Since then, its cult status and Group B legacy has inflated values beyond six figures, with the highly coveted EVO (evolution) models fetching significantly more.
History
The Ford Escort had been a familiar sight on rally stages throughout the 1970s, and it would end the decade on a high, claiming the World Rally Championship manufacturer's title in '79. Yet just before this result was officially confirmed, Ford announced that it would not be entering a works team in the 1980 WRC season.
Although disappointing news for Ford fans, the thinking behind this decision was simple: the Mk2 Escort was coming to the end of its life, and the competition in Group 4 would soon get much stronger with the arrival of cars such as Renault's 5 Turbo and Audi's Quattro. Ford knew it needed to take time out to create a car fit to take on these new rivals.
The all-new Mk3 Escort was chosen as the starting point for a new rally car, to be called the Escort RS1700T, but big changes were needed. It had to be converted from front- to rear-wheel drive, and that in turn meant its engine – a Cosworth-developed 200bhp-plus, turbocharged 1778cc four-cylinder, from which the car took its name – needed to be mounted longitudinally, not transversely as the engines were in the road car.
The work proved complicated, and the programme, which included a requirement to build 200 road-going versions of the car to satisfy the new Group B homologation rules, suffered delays. Meanwhile, Audi's Quattro was demonstrating the benefits of four-wheel drive. The RS1700T was already behind the times.
Shortly after being appointed director of motorsport at Ford in 1983, Stuart Turner canned the Escort-based project. He knew something better was needed and outlined his vision for a car purpose-built for the task, but using parts from existing models here and there to help keep costs down. Starting more or less from scratch, the RS200 that finally saw the light of day featured an aluminium monocoque, a mid-mounted evolution of the RS1700T's turbocharged 'four' and some rather trick suspension.
Engine and Transmission
The RS200's mid-mounted engine was a development of the RS1700T's, but capacity had increased to 1803cc with a bore and stroke of 86.0 and 77.62mm respectively. It featured Ford/Bosch injection, and with an 8.2:1 compression ratio allied with a Garrett turbocharger in road-going trim it developed 246bhp at 6500-7000rpm and a maximum torque output of 215lb ft at 4000-5000rpm. The rally cars had significantly more to play with – 444bhp at a screaming 8000rpm and 361lb ft at 5500rpm. 
In road-going form it was good for a 0-60mph time of 5.0sec and a top speed of 150mph, but in competition spec that acceleration time was slashed to 2.8sec. All four wheels were driven through a complex drivetrain set-up incorporating three viscous coupling LSDs (at the front, centre and rear) – the five-speed transmission was located at the front to aid weight distribution, but this required some of the power already sent forward from the engine to be sent backward again to the rear wheels via a second propshaft. 
A switchable torque split offered scope to tailor the driving experience. Normally the RS200 ran a 33:67 front/rear split, but a 50:50 split to tackle trickier conditions was possible. A rear-drive-only set-up was also possible – designed for potentially tackling all tarmac rallies where it was thought to bring benefits – and all modes could be adjusted by the driver via a lever by the transmission tunnel.
Suspension, steering and brakes
The chassis was suspended by dual spring and damper units at each corner. Double wishbones provided the mounting point for the wheel hubs to which the 8x16-inch eight-spoke alloys were secured. RS200s were equipped with what was then a state-of-the-art tyre, the new Pirelli P700, measuring a relatively modest 225/50 16.
Steering was via an unassisted rack and pinion set-up and the RS200 was available in both right- and left-hand-drive configurations. At just 2.6 turns from lock to lock it was a pretty quick rack for its time, but the turning circle was terrible – three-point turns in town could easily become six-point turns. Like the steering, the brakes were an unservoed set-up that utilised 285x25mm discs all round, gripped by four-piston calipers front and rear.
Body
The RS200 prototype debuted at the Turin motor show in November 1984. Styled at the Ghia Design Studio by Filippo Sapino (with former Jaguar design director Ian Callum also involved), the RS200 bore little resemblance to any existing Ford beyond its Sierra windscreen and rear lights. It was different under its Kevlar skin too – former Lotus F1 designer Tony Southgate had created an all-new chassis for the car, an aluminium monocoque to which tubular-steel space frames were bolted, allowing them to be easily replaced if damaged.
While Ford's competition department in Boreham built the works cars, the rest, with glassfibre rather than Kevlar bodies, would be assembled at the Reliant factory in Shenstone, Staffordshire. There was such a rush to get all 200 examples made that build quality was pretty shocking, and once the 200 cars had been presented for homologation Ford was forced to rebuild them at Boreham as there was no way a customer was going to shell out £50,000 for something that had a significantly worse build quality than a 1.1 Fiesta.
Interior
Best described as functional rather than elegant, the dashboard was segmented into three separate, grey plastic blocks: the binnacle, centre console and glovebox-come-cubbyhole. Eight dials relayed the important information, with the large rev counter taking pride of place in the centre of the main cluster. The thin, red-rimmed wheel, red-topped gearlever and heavily bolstered seats added welcome colour to the cabin.
The ultimate RS - Ford RS200 EVO
To homologate a car for Group B, manufacturers had to produce 200 road-going versions of the respective model. Any modifications and upgrades made had to be homologated by building a further batch of 20 road models to certify the revised specification.
Ford did indeed build an Evolution run of 20 RS200s but not in line with the homologation regulations. Only a year after the RS200 debuted on the rally stage in 1986, Group B was disbanded following numerous fatal incidents. With no series left to homologate the revised RS200 EVO for, Ford decided to convert a crop of its stock RS200s sitting dormant in its warehouse into the evolution specification for road use.
The engine was the main beneficiary of the evolutionary process. A new exhaust manifold and inlet anicalisries were fitted to eke out the most from an enlarged powerplant. The block was bored out to 2.1 litres, liberating extra power from the Cosworth engine. No power figures were officially quoted but close to 600bhp was mooted – dependent on boost pressure.
The RS200 in competition
Despite its bespoke design and construction, the RS200 didn't cover itself in glory during its only season in the WRC in 1986. The project was running so far behind schedule that there was no time to homologate the RS200 EVO for that season. The result that appeared on the start line was effectively a modified road car with less power, more weight and a lack of aerodynamic aids compared to rivals that were on their 'evo' or 'evo 2' generations by that stage. There were 13 rallies in the final season of the WRC Group B era and the RS200 was entered in fewer than half of the events.
The highlight was undoubtedly the 36th International Swedish Rally, when Kalle Grundel was guided through 30 treacherous stages lined with snow and ice by British co-driver Terry Harryman. They finished third in front of Grundel's home crowd and drove the RS200 to its highest WRC classification.
For the rest of the season a string of DNFs due to accidents and mechanical failures left the RS200 with a disappointing record. It suffered its darkest hour during the Rallye de Portugal when Portuguese driver Joaquim Santos lost control of his RS200 four kilometres into SS1. He collided with a group of spectators, killing three people instantly, while a fourth victim died later in hospital. Dozens of others sustained injuries and Ford, along with the majority of factory drivers from other teams, immediately withdrew from the event.
A hoard of RS200s found refuge in Rallycross in the six years following Group B's demise, with one taking the Rallycross title in 1991 with Martin Schanche at the wheel. Another RS200 was repurposed for a stint in the IMSA GT series, but it only turned out for three races in as many seasons due to reliability issues.
Almost two decades after the RS200 first arrived, it reappeared at the literal summit of motorsport at the Pikes Peak International Hill Climb. With 1984 WRC champion Stig Blomqvist at the helm, an RS200 producing over 900bhp snaked up the 12.42-mile course to claim victory in 2004.
Rivals 
Lancia Delta S4 (Stradale)
Lancia's engineers combined two forced-induction techniques to make the world's first twin-charged (supercharged and turbocharged) engine, capable of developing 247bhp in the road car. At lower crank speeds the supercharger was supplying the 1.8-litre inline-four with oxygen, before a bypass valve handed over the supply job to a spooling turbocharger at 4000rpm. Turbo lag was thus avoided and a broad torque curve, peaking at 215lb ft, was the upshot. Lancia captured the manufacturer's title in the Group B WRC 1983 season.
Audi Quattro
Of all the homologated Group B specials, the Sport Quattro had its contemporaries licked for power. The 2.1-litre inline-five churned out more than 300bhp and 243lb ft of torque courtesy of a big KKK turbo. Such performance allowed the Quattro to launch from 0-60mph in less than 5 seconds. The truncated body, 320mm shorter than the standard Quattro improved agility and manoeuvrability. In its various guises the Sport Quattro romped to two manufacturers' championships through the Group B years in 1982 and 1984.
Peugeot 205 T16
The 205 T16 is another Group B icon with two WRC manufacturer championships to its name. The transversely-mounted inline-four found amidships – and positioned slightly off centre – directed 200bhp and 188lb ft of torque to all four wheels via a five-speed manual gearbox. It was based on the humble 205 but only the doors, windscreen, roof and headlights remained on the T16 chassis.
What we said
By Richard Porter (evo084)
The RS200 idles with that rattly, unhappy beat of an engine optimised to head-butt the limiter on the closing stages of the 1000 Lakes. The clutch is hefty, but that's nothing to the sterling effort required to move the gearlever. First engages with a thunk, the revs rise, feed in the clutch... the car stalls. Damn. Repeat the procedure. The car stalls. Try again. The car stalls. More revs, extra delicate clutchwork, the RS200 sputters and jerks, we move off. Then it stalls again. This is bad enough. Try getting it moving with a bit of steering lock and it's even worse as the entire driveline winds up, snuffing the fire unless you pile on a whole heap of revs, dump the clutch and hope for the best. Was it 'pig' or 'dog' or maybe both?
We're heading up to the top of Essex, where it meets Cambridgeshire and Hertfordshire. Legend has it that the quiet, twisting roads around these parts were where RS engineers developed some of their finest fast cars. I'd love to give you specifics but Ford people are understandably coy about revealing precise details, since some of these roads remain chassis development favourites and the last thing they want is to find two spy photographers and a load of people from a Honda Integra internet site clogging up a good corner. Besides, said one Ford PR gloomily, the engineers don't even tell us where their favourite roads are. So we're taking a guess, and to get there we're on the M25. The traffic is pretty light but the RS200 is not in its element. This being a standard road spec car, it's turning out just 250bhp – a far cry from the steroidal 900bhp RS200 nutter car that threatened to rip off John Barker's beard in evo 072 – but it doesn't even feel as strong as that. The engine makes a flat, soulless drone, providing bass to the treble whine of the transmission, punctuated with an ominous clunk every time the stroppy gearbox is wrestled into another gear. So far, so crushingly disappointing.
We pause for photography somewhere near the M11. I know it's churlish to pick holes in your heroes, like meeting Roger Moore and noting that he's rather wrinkly, but it's impossible to ignore the fact that the RS200's body is spectacularly shoddy. Ford contracted Reliant to build these things, reasoning that they knew more about moulding fibreglass panels, and the build quality makes a tired Rialto look like a l980s S-class. Is that front clamshell actually shut? Have they touched up the paint chips with Tippex? Could I climb into the passenger seat without actually opening the door?
We've found one of those roads that may or may not be a public-domain proving ground for Ford's chassis engineers. Fast, sweeping, lots of open bends with clear lines of sight to the exit. Down a gear, bloody stupid 'box baulks slightly, the sound of big, heavy, chunks of pig iron smashing into each other, hoof the throttle... MOTHER OF GOD, where did that come from? Somewhere just shy of 5000rpm there is an explosion. The RS claws at the road, the revs rise fast, the flat thrashing engine note suddenly becomes a red-meat roar, we're moving fast along pitted tarmac, those fabulous double dampers holding each wheel tight against the road, wind rushing in through the open window... Grab for another gear, a smooth change at last, no bangs or thunks, visceral power thundering through industrial strength driveshafts, propelling us rapidly towards that corner up ahead. Hard on the brakes, so wooden and ineffectual at low speed, now so perfectly weighted and strong, turn in, beads of sweat peppering that tarty red wheel rim, the RS turns sluggishly, the front end seems to go light, unhelpfully so, no real feel to the steering either, then back on the power and we're gnashing frantically up the next straight.
The RS200 has come alive. It was obvious really. This car was conceived as a rabid monster to attack special stages. Even when it was neutered and booted to appeal to lily-livered millionaires who might want to pop one in their temp-controlled garages, the spirit of a competition car lives on. This car is a tiger and I've been driving it like a Puma. The 200 doesn't like that. At medium speed your modern rally-bred Imprezas and Evos are all nicey-nicey, flattering you with puppy dog eagerness ('Oooh, you took that corner nicely mate, let's do it another one'). The RS isn't like that, it only knows maximum attack, demanding that you really drive it. Or else. ('Come on! That was rubbish! Ari Vatanen would be back at the hotel getting a round in by now, you loser!')