VW adds quartet of petrol engines to Passat range
Previous diesel-only family saloon range is bolstered by petrol options from 123 to 217bhp - Tiguan gets similar treatment
With the sounds of dieselgate still ringing in the ears of Volkswagen bosses, a clear shift towards petrol power has begun to take place. The previously exclusively diesel-engined VW Passat family saloon will now be available with a choice of four new petrol engines alongside the pre-existing diesel engines. It's a move being mirrored by many manufacturers, as growing public distaste for diesel and fears of increased costs in the future leads to a drop in diesel sales.
The entry-level engine is VW's popular 1.4 litre TSI, which is available with either 123bhp or 148bhp. The higher powered model comes with Active Cylinder Technology for improved fuel economy and emissions. Next is a 1.8-litre TSI, producing 178bhp, while the top of the range is a 2.0-litre TSI producing 217bhp.
All new engine variants will be available with the option of manual or DSG gearboxes. Perhaps more importantly though, is that in conjunction with the new petrol engines, the sporty R-Line trim will be available across the new Passat range, even with entry-level engines. There is no denying that across the entire VW range, the R-Line trim makes a drastic difference to appearance and certainly makes all vehicles more appealing. VW itself says that this option will make the new basic 1.4 litre TSI a far more attractive proposition to the stylish, but budget conscious customer.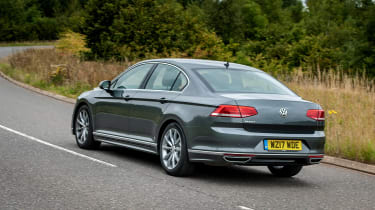 Also on the budget front there is more good news that arguably makes the new petrol range considerably more appealing than their diesel counterparts. VW claims that the new petrol versions will mirror the trim levels of their diesel siblings but also cost roughly £1,900 less than the equivalent diesel engined models. 
Wes Withey, Volkswagen UK Product Marketing Manager, said: "Adding petrol engine options to our popular Passat family, in particular, is a great step forward.
Powerful, refined and frugal – these new petrol units make the Passat more accessible in terms of price, as well as further broadening the cars' already extensive appeal."
The addition of the petrol engines to the Passat range is also good news for businesses. The new range benefits from a strong set of Benefit In Kind (BIK) statistics making it an attractive company car option. With a BIK rating of 22%, the new 1.4 litre TSI ACT would mean that a 40% tax payer would incur charges of £6,880 over a typical three year period. 
The new range of petrol engine is not merely limited to the Passat as the Tiguan receives similar treatment. With prices starting at £25,000 for the entry level 1.4 TSI, the Tiguan has certainly become a more attractive new car option.