PSA and FCA merger finalised
Two of the industry's biggest players complete the terms of their merger, creating the third largest OEM conglomerate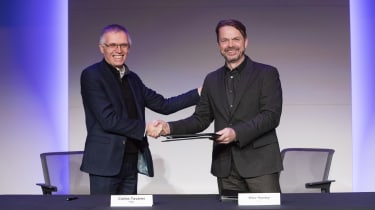 Peugeot, Citroën, Vauxhall, DS, Chrysler, Jeep, Fiat, Alfa Romeo, Maserati, Lancia – these car companies are now all part of the same automotive conglomerate. In what's quickly becoming the cornerstone of the industry's second century, PSA and FCA have finalised the terms of their merger, in the process creating the third largest OEM by revenue, and fourth largest by volume.
Both PSA and FCA will share a 50 per cent stake in the group, with PSA chairman Carlos Tavares assuming the role as group CEO, and John Elkann, previous boss of FCA, serving as group chairman.
The merger will create a group with combined revenues of nearly £145billion, and total combined sales of 8.7 million units across the globe, covering all major market segments underpinned by FCA's profitable US truck performance and PSA's stronghold of the European B-segment hatchback class.
There is a simple reason that so many seemingly unrelated manufacturers are joining forces – it simply costs a huge amount of money to develop new models, especially as the industry on the whole moves towards electrification and autonomous driving. Increased production scale, a further diversification of both product and market share and purchasing leverage from suppliers all build resilience too.
What does this mean for future product synergies? We can only speculate, but the reforming of Fiat's small car range including the 500 and Panda and their inevitable shift to electrification is on the cards, while a new investment into Maserati as the group's flagship luxury brand should also come to fruition with PSA on board. It's also worth remembering that Citroën has history with Maserati, previously owning the Italian manufacturer with mechanical tie-ups that led to the Citroën SM and Maserati Bora. Now wouldn't a modern DS-badged GT with Maserati underpinnings be something to look forward to?