What is it?
The future, possibly. Vauxhall's extended-range electric car will go on sale at the end of the year and suddenly everything else might be obsolete. The Ampera is the European version of the Chevrolet Volt, and rather better-looking to most eyes. Technically it's a plug-in hybrid, but Vauxhall doesn't really like the h-word because it makes people think of a Toyota Prius. And the Ampera works in a very different way.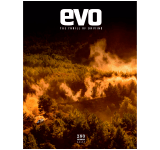 Subscribe to evo magazine
Subscribe today to have every issue of evo delivered straight to you. You'll SAVE 39% on the shop price, and get evo for its original cover price for a whole year!
Technical highlights
A hybrid is a vehicle in which an internal-combustion (IC) engine and an electric motor power that vehicle either separately or together. In hybrids so far on sale, the IC engine does most of the work most of the time. The electric-only mode is usually restricted to low speeds, gentle acceleration and short distances (sometimes enough to struggle through the official urban cycle test and so score a flattering CO2 result).
The Ampera has both types of power unit but, with one small exception, the electric motor does all the driving. All the engine does is power a generator to supply power to the battery once the charge it received the previous night, from your domestic electricity supply, has run low. Not fully low, because there's always enough in reserve to give the Ampera its normal pace rather than the reduced pace the 84bhp, 1.4-litre petrol engine could give alone via its generator. That scenario would unfold only if you drove about 100 miles up a mountain after the IC engine has kicked in.
At higher speeds, the generator acts as an auxiliary motor while there is still battery charge, connecting itself via a clutch to the final drive and augmenting the main motor's efforts. When charge is low, the generator remains thus connected but the IC engine is also connected to it by another clutch, so part of the engine's efforts are directed to the driving wheels. The engine is now also powering the generator which can top up the battery. At low speeds, the generator does nothing in electric mode, but charges the battery in extended-range, battery-low, IC engine-on mode.
Electric-only range is up to 50 miles (of zero-emissions motoring), but with a full tank of fuel the Ampera might manage 10 times that distance. It's quite possible that on a regular commuting run, the engine would never be needed. In which case it will occasionally start itself just to stay healthy.
What's it like to drive?
The stats are promising. There's 149bhp and 273lb ft on tap, and although the top speed is limited to 100mph for reasons of fuel economy and gearing it will still reach 62mph in around nine seconds. And there's that pleasing shove of effort from a standstill that electric cars do so well.
The Ampera we drove was a late prototype, much closer in looks and feel to production than the last one we sampled. The futuristic cabin is a quality job, with touch-sensitive console buttons and great moving graphics on the display screens. You're never in doubt about what's happening in the Ampera's motive systems, or how efficiently you're using the energy. The displays are similar to a Prius's but slicker and more colourful.
Driving the Ampera is easy, as with any electric car: foot down and go. There's a Sport mode for extra accelerative thrust at the expense of battery reserves, and a Mountain mode which brings the IC engine in sooner to ensure battery reserves for as long as possible when whooshing up that 100-mile mountain climb. The IC engine's eventual joining-in is almost imperceptibly smooth and discreet, but once running its revs rise and fall in quite close concert with your accelerator movements. Its speed range is quite narrow and it never revs hard, but the effect is to make the Ampera feel surprisingly normal in a CVT sort of way. Like a quieter, punchier Prius, in fact.
The battery pack is heavy and you can feel it in the Ampera's responses, but the centre of gravity is low. Steering and cornering are tidy and accurate. The ride is pretty smooth, and vitally the Ampera is low on road roar, suspension thumps and wind noise – important when the powertrain is so quiet. It's a great cruiser.
How does it compare?
With a straight electric car, brilliantly because it has a proper range with no need to wait for a recharge. With a more normal hybrid, also brilliantly because it uses less fuel, goes further and more speedily on electricity alone, is more fun to drive and somehow 'purer' in concept.
Anything else I need to know?
The Ampera is a roomy four-seater hatchback, but not a five-seater because the centre tunnel gets in the way (it houses the battery pack). It's made in the US but production could move to Europe. And it will cost £28,995 including a £5000 UK government grant. Given what the Ampera is and what it can do, that seems fair value.