Ask Goodwin - What got you into cars?
We all remember the moment it happened, Colin shares his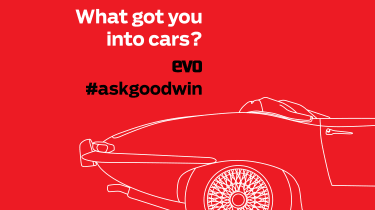 This week Graham Johnson from Cobham asks, 'what car kicked off the fever for you?'
Actually,  it wasn't a car. It was my dad's Suffolk Colt lawnmower. The old man never drove a car in his life and didn't know which end of the screwdriver to hold. He had a constant battle with the lawnmower because he had no idea how it worked. He wasn't very health and safety conscious and from the age of about 4 I would help him get it going by tickling the carburettor  to flood it and by setting the choke. We didn't know it was called the choke, to us it was just a lever that had to be manipulated if you wanted the engine to run.
You stopped the engine by pressing a sprung metal strip against the top of the spark plug which shorted it out. Dad did it with his foot but I once did it with my fingers and learned about high tension current. I found the whole concept of putting this stuff called petrol in, pulling a rope and the engine coughing into life totally fascinating.
The Suffolk Colt was what started my love of engines. Car engines, bike engines, aeroplane engines, outboard motors and even weed wackers. The first car that grabbed my attention, according to my mum, was an E-Type. Apparently a five year-old Goodwin proclaimed on seeing his first E that 'I'm going to have one of those when I grow up.' Later a schoolfriend's cousin had a 3.8 roadster that he used to collect us from school in it once in a while. There'd be at least four of us in it, two on the passenger seat and a couple squeezed into the tiny space behind the front seats. He used to drive ridiculously fast and that cemented the passion for cars. 
I never have owned an E-Type. Come close to it several times, but then I discovered American muscle cars and Porsche 911s and the desire to own the iconic Jag has passed. I'll bet that the E-Type triggered the fever in many 1960s small boys.
Ask Goodwin is a weekly column on evo.co.uk by Colin Goodwin, one of the UK's most popular motoring journalists – and one of the early contributors to evo magazine. 
You'd like Colin – he drove an amphibious vehicle across the English channel (it caught fire half way) and he held the Guinness World Record for the highest speed in reverse (104 mph in a Light Car Company Rocket). More recently he drove from England to the Geneva motor show… in a Caterham 160.
Oh, and when he visits the evo office he does so in a plane that he built in his shed…
Check back every Wednesday lunchtime for a new column, and get involved with #askgoodwin either at @askgoodwin (Colin's Twitter) or @evomagazine. 
Make sure to get involved in the Ask Goodwin debate on our Facebook page here. You can also put your vote in via the poll system found on the evo.co.uk homepage