Ask Goodwin - What car launched the year you were born would you like to see reincarnated?
Bringing back the classics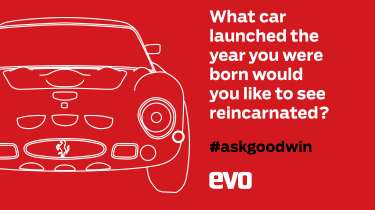 What car launched the year you were born would you like to see reincarnated? William Carr, Mitcham
That'll be 1962. A very fine year it was too, although I'd only been on the planet for a couple of months and had barely dialled myself into Graham Hill's final run up to the world championship when the Cuban missile crisis kicked off. My parents must have wondered what they'd done, but as it turned out I would later cause them just as much stress as Castro did JFK.
But to the cars, and what a choice we have. In sixty-two the AC Cobra was launched, the Cortina, MGB, Triumph Spitfire, Lotus Elan, Alfa Romeo Giulia and of course the Peel P50. Best of all, the Ferrari 250 GTO. Truly a great year for cars.
The TVR Griffith was my generation's reincarnation of the Cobra and since TVR is apparently on the way back we don't need a new Cobra. The market for traditional saloon cars is dying in the face of the SUV onslaught (apart from German saloons) so we'll forget a new Cortina. MGB no thank you but I've always loved the Spitfire for its looks and simplicity. BMW owns the brand and could do an MX-5 rival. 
The Elan certainly stands out as a possibility. Lotus is really lacking a car that appeals to female buyers and a modern Elan would fit the bill. Simpler than an MX-5, quicker and with even sharper handling. I'd like it very much. Alfa Romeo Giulia? Well that's on its way anyway although by the time it arrives I might be too old to drive. And it might be crap.
There's a space in the world, and most definitely in London, for a new Peel P50 but I think it might struggle with the NCAP tests. That leaves us with the 250 GTO. A simple, front-engined Ferrari with a V12 engine producing around 450bhp from 3.0-litres would do it for me. Especially if it was as beautiful as a GTO or a SWB. I don't want aero, huge wheels and tyres, just a simple analogue sports car.
But hold on, I've missed the obvious: the Matra Djet. The world's first production mid-engined sports car. This little French machine even has Le Mans history (a finish in 1964). A new lightweight and simple French sports car. And I'd have Jackie Stewart and Henri Pescarolo as brand ambassadors.
Ask Goodwin is a weekly column on evo.co.uk by Colin Goodwin, one of the UK's most popular motoring journalists – and one of the early contributors to evo magazine. 
You'd like Colin – he drove an amphibious vehicle across the English channel (it caught fire half way) and he held the Guinness World Record for the highest speed in reverse (104 mph in a Light Car Company Rocket). More recently he drove from England to the Geneva motor show… in a Caterham 160.
Oh, and when he visits the evo office he does so in a plane that he built in his shed…
Check back every Wednesday lunchtime for a new column, and get involved with #askgoodwin either at @askgoodwin (Colin's Twitter) or @evomagazine. 
Make sure to get involved in the Ask Goodwin debate on our Facebook page here. You can also put your vote in via the poll system found on the evo.co.uk homepage