ABT tuned Audi A1 Sportback
Volkswagon and Audi tuning specialists ABT has added the A1 Sportback to its tuning catalogue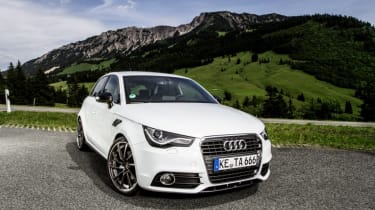 ABT Sportline has launched a new range of upgrades for the Audi A1 Sportback, which include both styling and performance tweaks.
An ECU and exhaust upgrade sees the most powerful standard model 1.4-litre TFSI upgraded from 182bhp  to 207bhp - managing 0-62mph in 6.6 seconds. Other engines have been tweaked too, including the smaller 1.2 TFSI, up to 158bhp from 120bhp.
Of course the diesel models in the range have been breathed on too, with the 1.6TDI turned up to 125bhp and the top 2.0 diesel will be up to 168bhp from the standard 142bhp.
Visual changes include side skirts, wing vents and rear skirt inserts – in brushed aluminium, painted gloss green or lavender. Wheels are available in 17 or 18-inch.