Audi R8: V10 Audi R8 due late 2008
Super-R8's V10 to be based on RS4/R8 V8 and will offer over 500bhp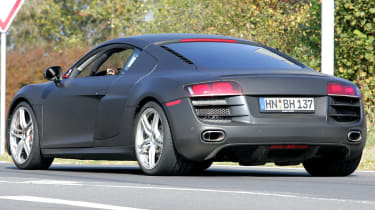 The ultimate version of Audi's R8 is hardly a secret any more, but a few more details of the flagship model have emerged recently. Confirming our earlier news story, the V10 engine will be completely new and not related to the V10s in either the RS6 or the Lamborghini Gallardo. Instead it is essentially a development of the high-revving V8 from the RS4 and R8.
Engineers tell us that this new engine will shade BMW's 500bhp M Power V10 – as found in the M5 and M6 – in terms of outright power and revs. Considering BMW's figures, that means the new 5.2-litre engine should be good for around 520bhp and rev beyond 8250rpm.
We'll have to wait a little longer than expected before we get to drive the V10 R8 though, as Audi has decided to delay its introduction due to the higher than expected demand for the current R8. We don't expect the V10 version to be released until late in 2008, but from what we're hearing, it should be worth the extra wait.