Cadillac CTS-V
It's over-engined, over-powered and over here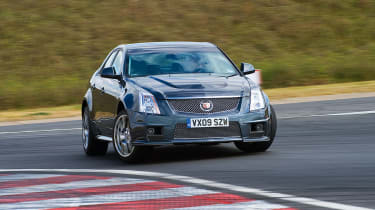 Why's this car here? I'm not questioning its existence, because by its very definition a saloon with a supercharged 6.2-litre V8 is A Good Thing, but why is GM going to the expense of bringing it to the UK?
I have no answer to that I'm afraid, so we'll leave aside the whys and wherefores and just say that we're glad it is. You see, the CTS-V ain't bad at all – it's better than the Corvette ZR1 with which it shares its engine, in fact.
Here the V8 boasts a slightly smaller supercharger, but 556bhp is plenty to be going on with, even when it's got 1942kg to push around. As with many supercharged cars (although oddly not the Jag XFR that is this Caddy's closest rival), the CTS-V never feels that fast – engine response is a touch tardy, the gearbox sluggish and the lazy V8 plays second fiddle to the whining 'charger. But that's all rather misleading – in our hands it shot to the ton in under nine seconds.
Initial driving impressions are similarly deceptive. The CTS-V is heavy through slow corners and the steering weights up without reward, but when you start to throw the Caddy around it perks up no end: the damping comes alive, body control is exceptional, traction is awesome and both ends of the car are worked evenly. There's more to this than just muscle.
Specifications
| | |
| --- | --- |
| Engine | V8, 6162cc, supercharger |
| Max power | 556bhp @ 6100rpm |
| Max torque | 551lb ft @ 3800rpm |
| Top speed | 175mph (claimed) |
| 0-60mph | 3.9sec (claimed) |
| Price | £59,000 |
| On sale | Now |