Caparo T1 Evolution teased
Caparo is planning a more extreme T1 Evolution variant, which has been teased. Picture and details here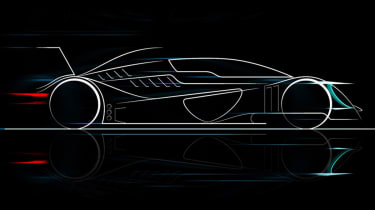 Caparo, the British engineering firm behind the superlative T1, has burst back onto the scene with the T1 Evolution, which as the name suggests, promises to take every aspect of the £250,000 T1 to the next level.
'Racecar for the road' is one of many overused clichés used in the automotive world, but the Caparo T1 was a car that certainly justified its status. It's pretty much the closest thing to a Formula 1 car that you can legally drive down to the local supermarket in, and this Evo version promises even more. 
Where the T1 featured a 3.5-litre V8 and 570bhp at 10,500rpm, the T1 Evolution has been quoted to feature a 'bespoke powertrain system with 700bhp'. For some context, the T1 certainly was not short of performance, with a power to weight ratio of 1053bhp/tonne it would catapult past 60mph in 2.5 seconds and would carry on pulling to 205mph.
Performance figures for the Evolution model are yet to released, but with an extra 130bhp, the T1 Evolution should chip a considerable amount off that time. With the T1 Evolution being so powerful, Caparo elected to improve other aspects of the car to help it cope. The chassis has been reworked and modified to meet newer and more stringent safety regulations, while a host of driver aids including ABS, traction and stability have also been installed.
The T1, with all its racecar inspired aero and tyres, handled sensationally, the Evolution will feature a new suspension configuration making the car stiffer and even flatter in the bends.
Although available to order now, there is no word on pricing or expected delivery dates. With the original T1 costing £225,000 we estimate that the T1 Evolution will cost in the region of £300,000, with customers being able to spec various parts of the car in precious metals such as Silver, Gold or Platinum.