Ugly (adj) – lacking appealing physical features, especially facial ones; generally unpleasant. To that definition we can now add the words Skelta G-Force, for 'ugly' is how every single person, without exception, described this peculiar Australian sports car during our time with it. Even importer Guy Bedington admits that it isn't the prettiest thing to have come out of the southern hemisphere, but he reckons that it's beautiful where it really counts and, before I try it for the first time, he guarantees I'll be blown away by the way it drives. I hope he's right, or the six weeks it has taken to ship this car here will have been a complete waste of time.
The Skelta is the product of one man's obsession with and determination to win the Targa Tasmania, arguably Australia's greatest tarmac rally. Ray Vandersee has been competing on it since 1999, and he designed the Skelta with just one thing in mind: to win that event. Appearance, saleability and aesthetics counted for nothing; downforce, lightness and balance were the all-enveloping goals.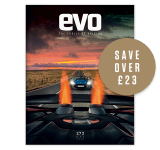 Subscribe to evo magazine
Subscribe today to have every issue of evo delivered straight to you. You'll SAVE 39% on the shop price, and get evo for its original cover price for a whole year!
This year Vandersee piloted his machine to fourth place overall on the Targa, beaten only by cars toting considerably more power than that on offer from the standard Honda S2000 unit in the Skelta's nose. Next year, when the supercharged G-Force comes on-stream, he plans to finish three places higher.
Now that the Skelta has proven itself in competition, the small team behind it are looking to expand globally, but as they have no desire to re-engineer the car for left-hand drive their outlets are limited. Their plan, therefore, is to hit the UK hard and even manufacture the cars here. Expat Bedington is convinced there will be strong demand if they can just get enough people past the challenging lines and behind the wheel. That process begins right here, as we're the first to sample this fresh-from-the-docks example.
There are no doors or side windows on the Skelta, and although the roof can be removed, you'll need a socket set, a spare ten minutes and somewhere to store it, so as rain is predicted later in the day, the lid stays on. To get in you lift up the hatch in the roof panel, clamber over the side panel and lower yourself down into the seat. Once there you may recognise the S2000 switchgear, including the scarlet starter button. Prod it and the motor is roused in familiar style.
Before moving off you notice that you're surrounded by the thin, round chrome-molybdenum tubes from which the chassis is constructed for structural strength and lightness. Clothed in carbon and Kevlar, the Skelta weighs just 650kg dry, and that has a big effect on the S2000 motor – without the mass it's more commonly tasked with moving it really flies, revving with more verve, particularly in the upper reaches of the hot VTEC zone.
The ride is surprisingly supple and the damping very controlled, but then one of the other requirements of a Targa contender is that it's comfortable over long distances, as the event lasts some five days. The tyres also play their part here. Being 225/45s on 16in rims they're neither wide nor particularly low in profile – not what you'd expect from a tarmac-rally machine. However, a couple of corners are all you need to realise that greater contact patches aren't needed. Grip levels are extraordinary. I take the first bend on a route I know well at a speed that would test the limit of adhesion of the Honda donor car and the Skelta doesn't flinch. I give it an extra five per cent for turn two and still nothing – we just shoot round with no fuss, no bother, not even a chirrup of tyre squeal. It doesn't take long to realise that the only safe place to really discover this car's limits is on a track, so one quick phone call later we're over at the Bedford Autodrome.
One lap in and already I'm attacking corners far harder than feels natural. Those scoops and wings are pushing the tyres so hard into the tarmac that I'm a gear higher than usual through the two quick corners at the end of the lap. The Skelta just grips and goes. There are no time-wasting slides and, when eventually you do reach the limit, it's incredibly neutral. Just ease off the throttle by the smallest amount and it grabs the tarmac once more. It's so benign and easy to drive that a novice could extract an impressive lap time from it, while an experienced driver would revel in the crazy cornering speeds that can be achieved. As a trackday or competition car there's no doubting its ability. Question is, will those drivers be bold enough to overlook the obvious?
There are plans to rework various elements of the Skelta's styling, but it will remain largely the same. No prices have been set yet, but expect to pay around £45K for the base fibreglass model and £60K-plus for a carbonfibre, supercharged car. My advice is to buy one in black, become nocturnal and drive it only at night.
Specifications