Caterham R600 a possibility
Caterham has alluded to the possibility of a supercharged Caterham 'R600'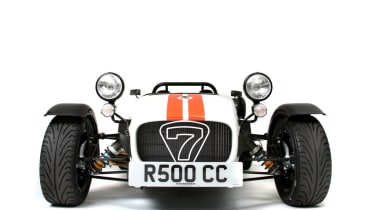 Caterham has confirmed to evo that it's looking to develop a successor to the R500, and there is demand for a more powerful model. This model could use the SP 300R's supercharged engine.
There are also plans for a completely new, more 'user-friendly' model, but Caterham is still committed to building the Seven, with no plans to stop production any time soon. There will be a 40th anniversary model next year, with retro styling to honor the company's roots.
When asked about the possibility of using the SP300R's supercharged engine in the Seven, CEO of Caterham, Graham MacDonald commented: 'Potentially, yes. I would love that, of course – especially if we took the next step and made it an R600.
'However, there are some real packaging issues and we'd have to deal with some big cooling problems. I'd love to think we could take it a step further – it would definitely present our engineers with a bit of a challenge. What I'd say is 'watch this space'
In the latest issue, evo got the chance to grill Graham MacDonald about the sports car maker's plans for the future. Read the full interview in evo 175.