Caterham Superlight 150
There's no such thing as bad weather with the Caterham, just inappropriate clothing...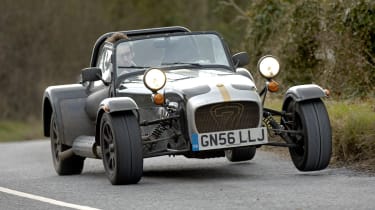 It's a philosophy I've always rather liked, which is just as well really given that I've consigned the Superlight's roof to the recesses of an evo storeroom.
Whilst I was thawing out one day recently, I started wondering what would be the very best sort of clothing for driving the environmentally vulnerable Caterham. The obvious choice is bike gear, but I don't really want to look like a biker. People would talk.So who gets wet, cold and puts up with big winds (so to speak)? Answer: people who bob about on oceans. So I gathered together all the sailing catalogues I could find and eventually plumped for Henri Lloyd's Offshore Racer Smock. It has a huge outer collar that is perfect for shrugging down into, it has an internal collar to stop rainwater or spray trickling down the back of your neck, and because it's a smock and therefore slightly shorter in the body it doesn't get bunched up in the four-point harness. I've been using it for just over a month now and have found it genuinely does make year-round roof-down driving doable.
Which is handy, because the 150 is best enjoyed in the wet. You have to feel for front-end grip through the tiny steering wheel and you think carefully as you metre out the throttle. Every corner's camber, surface and radius has to be observed, but there's no doubt that using a Caterham sharpens your driving. And when you're pivoting the car around the badge on the front, feet and hands having equal input to the line through that wet, uphill left-hander on the way into work, it's well worth the effort.
Running Costs
| | |
| --- | --- |
| Date acquired | December 2007 |
| Total mileage | 8052 |
| Costs this month | £300 (smock) |
| Mileage this month | 802 |
| MPG this month | 30.7 |