All DS models to be electrified from 2025
DS Automobiles has committed to full electrification for its model rage, with its first pure EV due in 2019.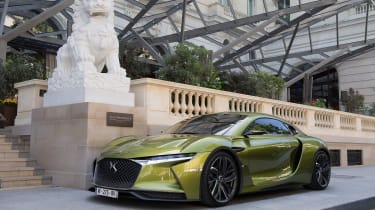 At the Paris Formula E Grand Prix, DS revealed all its production models will feature electrified powertrains from 2025 onwards. The announcement follows DS's recent unveiling of the all-electric DS X E-Tense concept, its vision of the car of 2035.
Each new DS model produced from 2025 onwards will be electrified to some extent, taking the form of either a hybrid or a full EV. The DS 7 Crossback E-Tense 4x4 kicks off the French marque's electric model offensive. It comprises a turbocharged 1.6-litre petrol engine and two electric motors that produce a total of 296bhp. DS claims a pure electric range of 30 miles for its flagship SUV.
DS Automobiles, CEO, Yves Bonnefont revealed the first all-electric DS is on its way and is due to debut at the 2018 Paris motor show. DS's experience in Formula E has and will continue to inform the development of its electrified powertrains, bringing about a firm tie-up between the firm's road and race cars.  
Commenting on the new strategy, Yves Bonnefont said: 'Our strategy is underway with the arrival of DS 7 Crossback E-Tense 4x4, fitted with a hybrid (petrol-electric) drivetrain and boasting 300hp, and is to be followed soon with the presentation of the first 100% electric DS model. See you at the Paris Motor Show!'