A group test of endurance – evo Archive
What goes on in the hotel bedroom is enough to give a road tester nightmares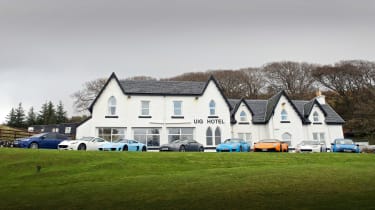 'It was like a dog chewing a bone,' says John Barker, looking pensive but also rather pained as he recalls the noise. 'Or perhaps two porcelain lavatories rubbing up against each other.'
Andy Morgan chips in with the sound simile of two boats moored inadvisably tightly alongside one another on a slight swell.
Others offer their own 'akin to…' or 'imagine the racket that…', each devilish depiction eliciting a wave of winces as though someone were on hand with nails and a blackboard.
Then silence… as those who have been unfortunate enough to hear the grinding teeth of John Hayman in the dead of night all attempt to banish the indelible audio file that has resurfaced in their memories.
Sharing hotel rooms was (and is) a hazard of group tests. If you have ever seen a photo of a road tester in a car looking absolutely shattered, it's probably nothing to do with heavy steering and a long day behind the wheel and everything to do with a very disturbed night's sleep thanks to someone's snoring. And oddly the memories of such shocking slumbers seem to be retold almost as frequently as the tales of tortured tyres.
There is general agreement that Dickie Meaden and Roger Green both score high on the noise meter readings when it comes to snoring. However, it has always been their uncanny ability to fall asleep so quickly that is even more irritating than their decibels. As soon as head hits pillow each one seems to settle into a simulation of the raucous cold start idle of an Enzo. If you ever find yourself sharing a room with one of them it is imperative to try to beat them to the bathroom and then give yourself a few minutes while they are attending to their own ablutions in order to enter the land of nod first. Otherwise you might never get there.
Andy Morgan rates Jethro Bovingdon's snoring slightly lower on the scale of NASCAR rumbles, but says that he makes up for this by generating both intake and exhaust noise. The snore-fart symphony is impressive but also more irritating at 3am than a neighbour's faulty car alarm.
It's not just the more established members of the team who come in for criticism either. I remember arriving down at breakfast one morning not long after Antony Ingram and Aston Parrott had both joined the evo ranks. Neither was fresh-faced. At first I thought it was Aston's already legendary early morning use of a hairdryer that had caused a problem. Then I saw Aston looking rather grumpy and slightly less shevelled than normal, clearly having had a bad night's kip. At this point Antony confessed that he had been woken in the small hours by a hurled pillow and a hairdryer of a different sort as Aston shouted (with worrying earnestness): 'If you snore one more time, I'm going to kill you!'
I shall also never forget a certain designer cheerily informing me, just before lights out, that he might somnambulate. But not to worry. But also on no account to wake him. Which is about as conducive to a good night's sleep as the thought of total brake failure.
However, it will always be John 'Gnasher' Hayman's nocturnal noises that people recall with the most fear. John Barker tells the story of one poor owner who kindly brought a car along to a group test and blithely stepped up to the plate when the rooms were being dished out. He was warned, but said he could sleep through anything and cheerfully took the twin room with Hayman. The next morning he looked like a broken man. A broken man who had spent the night sleeping in a Caterham. A Caterham made of porcelain, rubbing up against another Caterham made of porcelain. With a dog chewing a bone in the passenger seat.