Ask Goodwin - How evo are you?
The first in a new weekly column asks just what sort of car enthusiast you are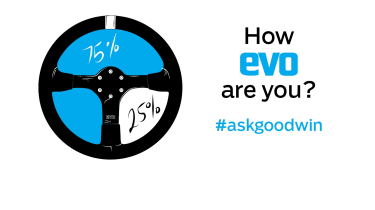 The legacies of Hawking and Turing are unlikely to be shaken by my latest theory, but I think it's a valid one anyway. There are two types of car enthusiast: those who like cars and those who like driving them.
Actually, most of us are a combination of the two, it's the ratio that's different person to person. This train of thought arrived while I was driving a Caterham 160 from London to the Geneva motor show the other day. In one day, with no autoroute kilometres, so I had plenty of thinking time.
I reckon that for me it's 75 per cent about the driving and 25 per cent about the car. I've got mates in our business for whom the ratio is probably the reverse. James May, for example, has a stunning collection of cars and bikes but is unlikely to leap in or on one of his machines and do a serious road trip. 
At the end of the drive to Geneva I couldn't feel my arse and couldn't hear the barman when he asked me if I wanted a Weissbier or a lager, but it was a terrific drive. Fantastic roads, barely any traffic and the only gendarme an old fellow on his way home after a shift in a Fiat Doblo. Another trip to add to hundreds over the last quarter century or more.
Of course, long-haul blasts like the one Harry Metcalfe and I did on the way back from evo Car of the Year in Italy in 2005 were made even better by our Ford GT and BMW M6, but the drive would still have been a joy in a Fiesta ST or a 320d.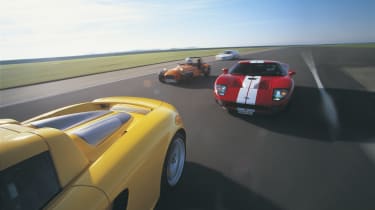 My ratio could stem from growing up in a family that didn't have a car. The late 1960s and early '70s were spent waiting for buses or getting a speed rush from leaning my head out of a train window. When, in 1979, independence arrived from Swansea through the letterbox I was away on road trips immediately.
Paris and back on a Yamaha XS250; Cannes in a Datsun 120Y. The props have got more exotic since then, but the simple love of being on the road, with some good music and a bundle of Twixes in the door bins, has always appealed more than polishing a chrome radiator grille on a Sunday morning.
Ask Goodwin is a new weekly column on evo.co.uk by Colin Goodwin, one of the UK's most popular motoring journalists – and one of the early contributors to evo magazine. 
You'd like Colin – he drove an amphibious vehicle across the English channel (it caught fire half way) and he held the Guinness World Record for the highest speed in reverse (104 mph in a Light Car Company Rocket). More recently he drove from England to the Geneva motor show… in a Caterham 160.
Oh, and when he visits the evo office he does so in a plane that he built in his shed…
Check back every Wednesday lunchtime for a new column, and get involved with #askgoodwin either at @askgoodwin (Colin's Twitter) or @evomagazine. 
Make sure to get involved in the Ask Goodwin debate on our Facebook page here.