F1 2015 preview - a first look at the next-gen racing game
Early impressions of the PS4 and Xbox One game
F1 2015 is all about simulation. It's about going back to the hard-edged, challenging and altogether more realistic approach to racing games taken by Codemasters when it first took on the Formula One licence.
It's been a long time coming, but we've finally been given the chance to get our hands on the next-gen version of F1 2015 and we have to say we're impressed.
Before we get into the nitty gritty of the gameplay, just a word on the looks as after all, this is the first time an F1 game has appeared on the PS4 and Xbox One.
Sadly, we were only given the chance to play through Singapore, which isn't the best track to first demo a Formula One title on, but it does create a visually impressive setting.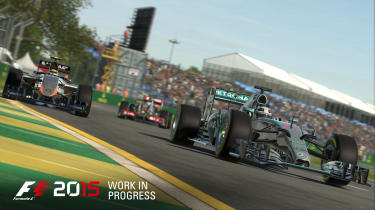 Quite simply, it looks stunning. Everything is meticulously detailed, from the complex carbon fibre intricacies of an F1 car's front wing, to the details on the driver's faces peering through their helmets. Pit crews, crowds and the surrounding environments of racetracks are all perfectly rendered.
The weather effects too are expertly handled. Driving in first person in the pouring rain is almost as terrifying as we imagine it would be in real life. Rain drops trace along lines in the car's bodywork and streak across the visor of your virtual helmet. It's an overwhelming experience at first.
This visual leap has been paired up with a return to form for Codemaster's handling and controls setup. F1 2014 dumbed down the difficulty in favour of a more arcade-like gaming experience, but here the wick has been turned right back up again. This is not an easy game to play.
In fact, the combination of the new turbocharged engines and the ability to turn off every single assistance system, makes it extremely difficult to get the car moving off in a straight line. Too much throttle out of a corner and all that torque will see you spinning off into oblivion.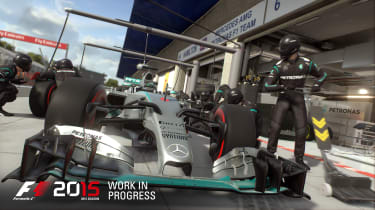 At first it's frustrating, but ultimately it results in F1 2015 being a more rewarding experience. When paired up with a racing wheel, a properly put together lap is a hugely enjoyable thing, albeit one that will require a lot of practice to achieve. The game also plays much better with a standard controller, a criticism of previous titles.
While the handling setup appears much improved, the work in progress build we played did seem to have significant issues with AI. There was far too much of a tendency to randomly stray from the racing line, or under-brake into a corner and go straight into the back of you.
At one point during our playtime with the game, we saw a Williams car just force us directly into a wall. Clearly intending to carry out a block to our overtake, the car continued to turn in and just rammed us into the scenery, ruining our race.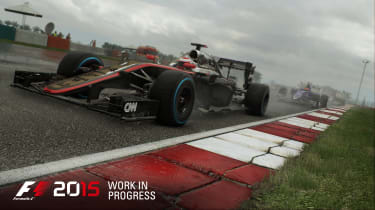 In terms of new features, F1 2015 includes a 'broadcast mode' that sees Sky F1 presenters Antony Davidson and David Croft commentating on pre-race build up. A new 'Pro Championship' mode is also available, which locks you into first person and switches off every assist available for the car.
Speaking of championships, it's now possible to mount a full season campaign as any one of the current gamut of F1 drivers.
Set to launch in June, F1 2015 includes cars from both 2014's season and this year's setup also, minus Manor. We're looking forward to spending more time with the game and will keep you updated as it nears its launch.