Ask Goodwin - What's your definition of an 'evo' car?
From Defenders to supercars, Goodwin reckons its you - not the car - that's evo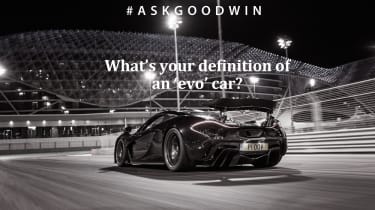 What's your definition of an 'evo' car? John Heath, Poole
I don't have one and I'll tell you why. To me it's not so much the type of car that is evo, it is the person. There are people who write for the magazine (Richard Porter stand up) who love Land Rover Defenders. Fair enough, but I've never caught the bug myself. Great to look at and a hoot off-road, but not a car that I've ever wanted to own or ever enjoyed driving on the road. So I wouldn't want to get in an argument as to whether a Defender is evo. Or whether a Morgan is. 
An evo person, that's a different matter. For one thing, I've met an awful lot of them over the years. In my experience they're people who have a fever for all things motorised. They might not ride bikes but they can understand those of us who do. They make rash decisions about buying cars and are willing to plunge a large percentage of their income into running them whether they're a skint student or a flush banker. 
Somebody who is evo is always looking for an excuse to go for a drive. Ideally, family holidays would involve driving and if possible near to an interesting car museum or a race circuit. And even if the holiday doesn't involve driving, eyes will be casting about looking for unusual cars. 
Somebody who is evo will go to a wedding and spend the first hour trolling around trying to find a fellow car nut to talk to for the rest of the evening. They will spend much of the working day on Ebay tracking the bidding on some old snotter that they will never be able to justify to the other half.
Somebody who is evo will not be afraid to say that modern F1 is boring if they think that is the case. Somebody who is evo is someone who I will probably get along very well with.
Ask Goodwin is a weekly column on evo.co.uk by Colin Goodwin, one of the UK's most popular motoring journalists – and one of the early contributors to evo magazine. 
You'd like Colin – he drove an amphibious vehicle across the English channel (it caught fire half way) and he held the Guinness World Record for the highest speed in reverse (104 mph in a Light Car Company Rocket). More recently he drove from England to the Geneva motor show… in a Caterham 160.
Oh, and when he visits the evo office he does so in a plane that he built in his shed…
Check back every week for a new column, and get involved with #askgoodwin either at @askgoodwin (Colin's Twitter) or @evomagazine. 
Make sure to get involved in the Ask Goodwin debate on our Facebook page here. You can also put your vote in via the poll system found on the evo.co.uk homepage.