Pontiac GTO hood tach - Art of Speed
A prototypal head-up display predating digital examples by decades, the Pontiac GTO's bonnet-mounted tach was both flamboyant and flawed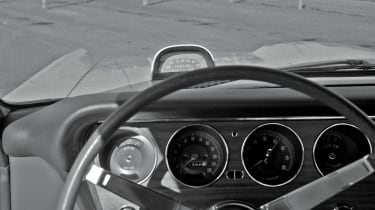 Porsche puts it dead centre, Bentley at times turns it upside down and Pagani has been known to embed it within the steering wheel boss. Yet almost all tachometers share one common and perhaps obvious principle: they don't form part of a car's exterior.
For the 1967 GTO, newly available with a V8 bored out to 6549cc and 355bhp, Pontiac had other ideas. By then the 'Goat' was a fast-selling hit. A machine cleverly marketed as a drag-strip warrior, it celebrated partnerships with popular suppliers such as Hurst (for the floor-mounted four-speed shifter) and championed ram-air intakes, a wide track, big displacement and as little weight as was reasonably possible. 
Pontiac, nevertheless, hadn't conquered the rev counter. Where to house it without sacrificing aesthetics or the clock with which it competed for dashboard real estate? Back then the ability to observe and act upon the number of times your crankshaft revolved every minute was regarded in the same way as monitoring boost pressure is today. Nice – and fashionable to some – but non-essential. On early GTO models, where a tach was optional, the driver was even obliged to set their own red line using a central stud! It was, simply, an afterthought. A trinket.
> Track-only 838bhp Pagani Huayra R revealed with naturally-aspirated V12
Pontiac initially opted for the far right binnacle of a traditional cluster, which was a mistake. 'The instruments are all well-placed and legible, except for the tachometer, which is terrible,' was the verdict from Car and Driver in 1964. 'It's too far to the right to be glanced at during a hard run.'
One solution was to bolt a pod onto the steering column – a common aftermarket addition – but this would tarnish the handsomely pared-back interior while forcing the driver to look down too far (not a very good idea in something so shockingly potent but appallingly under-tyred). 
Pontiac's idiosyncratic and arguably even less practical answer was part no. 6468453, which was a hood-mounted tach costing $63.19. Pop-riveted on and standing approximately three inches tall, its backlit dial showed a red line starting at 5200rpm – the torque of Pontiac's High Output engine was absurd – and optimistically running to 8000rpm.
A prototypal head-up display predating digital examples by decades, this tach was flamboyant and flawed, chiefly because it was susceptible to being knocked out of calibration if the hood was slammed shut. To other drivers it appeared merely as an alien lump a few inches from the GTO's either twin (non-functional) or single (genuine) air intake. But to the owners who squinted so hard to read them? A masterpiece.