MG ZT XPower 385 – Dead on arrival
MG Rover's collapse put paid to plans for a 385bhp production version of the Prodrive‑developed, rear-drive V8 Rover 75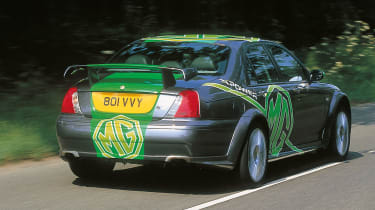 When Rover was sold by BMW, the new owners were quick to assert their independence. Just a few months after the company changed hands, the freshly renamed MG Rover called a press conference to show off a trio of MG-badged cars with sportier chassis and more aggressive styling than the Rovers on which they were based (confected, fact fans, by much-maligned Allegro designer Harris Mann, working with McLaren F1 stylist Peter Stevens).
Such speedy action was possible because the cars were developed from existing projects that had been frowned upon by German management. The largest saloon, later named ZT, was spun from the Rover 75 Sport concept shown at the 2000 Geneva motor show, while the chassis tune for what became the MG ZS had its roots in an after-hours, Rover 45-based hill climb car. The most extraordinary announcement, however, seemed to be based on nothing more than a fever dream, as newly independent MG Rover outlined plans for a V8-powered, rear-drive flagship crammed inside the Rover 75 shell. It sounded like sheer fantasy.
Imagine, then, the surprise in May 2001 when media arrived in south Wales for the press drives of the new MGs to find a concept version of the ZT V8 outside their hotel. Labelled the MG ZT XPower 500 Extreme, this wide-arched, fat-tyred, Prodrive-built one-off, pictured here being driven by David Vivian for evo 034, featured a supercharged, 4.6-litre Ford V8 feeding a claimed 500bhp to the rear wheels. And amazingly, it actually ran. Or at least it did until MG Rover's David Brent-alike boss Kevin Howe concluded each evening of the launch by dragging journos outside to watch him aggressively revving it from cold, eventually knackering the engine.
> Yamaha OX99-11 – Dead on arrival
The now-broken show car was no empty promise, though, because Prodrive had been commissioned to develop a production-ready ZT V8 in two flavours: a 'core' version with 260bhp, and a useable version of the 500 Extreme delivering 385 supercharged horsepower. To keep up the momentum, MG Rover arrived at the 2001 Frankfurt show with a finished version of the latter – actually the original 500 show car repainted in blue – and boldly claimed this pugnacious, bodykitted variant would follow the 260 into showrooms by summer 2002. Behind the scenes, however, things were getting rocky. Longbridge engineers were resentful that this juicy project had been outsourced, while Prodrive staff were baffled by MG Rover's moving goalposts, the target shifting wildly between 'BMW 330i' and 'four-door TVR'. It didn't help that there was a tiny budget for the huge job of creating a V8-powered rear-drive car from a front-wheel-drive saloon.
Eventually Prodrive/MG's relationship fractured beyond repair and the ZT V8 project was brought in-house, the low-key 260 finally going on sale in late 2003. Reviews spoke of its poise and charm but noted that its performance, like its looks, was subtly underplayed. The supercharged ZT 385 would have addressed this. Fat-arched test cars – including, brilliantly, at least one ZT-T estate – were regularly seen at UK test tracks and prowling the streets of Birmingham, but engineering resources were stretched and the 385 slipped in the schedule until, in April 2005, MG Rover collapsed.
The original 500 concept, resprayed several times in its service as the 385 show car, was rescued by the MG Owners' Club, while the only production-finish 385, an estate built for an MG director in Q-car trim without the bodykit, ended up in the hands of an enthusiast. The true potential of the MG ZT V8 was lost forever. As indeed was a wild plan to enter the car in DTM racing, described by one insider with a phrase that could have summed up the entire V8 project: 'Completely barking.'