Peter Wheeler 1944-2009
In memory of the former TVR boss, Harry Metcalfe pays a personal tribute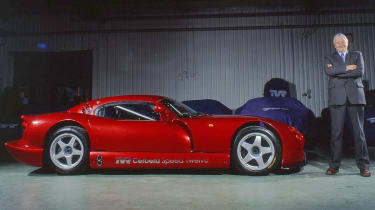 Tall lad, sits at the back. That was how Peter Wheeler's headmaster described him in one of his school reports. Which rather neatly summed up Peter's character, for he was always quietly spoken, much preferring to let his actions speak for him.
I first met Peter Wheeler on the TVR stand at the 1995 London motor show. He was standing next to the then brand-new Cerbera, the car I thought could potentially be the perfect vehicle for the Metcalfe household, but I needed convincing that the back seats really were usable. Peter folded his lofty frame into the back of the Cerbera and asked me to sit in the driver's seat in front of him.
'There you are!' he announced proudly. I couldn't see him directly as he was too folded up – it was as though he'd pulled his head into his body, much like a tortoise might do, in order to fit. I said thank you very much and asked if he wanted some help getting out. 'No, I'll stay here for a while,' was the muffled reply. I wondered if he was just being polite or was actually firmly stuck – I never saw him on the stand again all day.
For me, TVR was what made the British motor show a must-see event at this time, and it was thanks to Peter Wheeler's vision that TVR came to be one of the most exciting car companies in the world.
So it seems odd that he bought TVR almost by accident. It was 1980, and Peter had recently sold his company ETA, which manufactured desalination equipment used mainly in the North Sea oil industry. He was planning on buying a Scottish estate with the proceeds, but the TVR Taimar Turbo he owned at the time kept having to go back to the TVR factory to be fixed, which meant he got to know the guys there rather well. When he discovered they were financially strapped he decided to help them out, with the net result that he ended up buying the company outright. 'I hadn't meant to, it just sort of happened,' he later said.
Peter wanted TVR to be famous for producing proper sports cars and felt the Ford engines they were using at the time were simply not powerful enough. The change to Rover V8 power soon proved to be a masterstroke and heralded a golden period in TVR's history.
In 1989 he introduced the Tuscan Challenge race series, which proved to be another instant hit. Each TVR dealer was required to field a car and it soon came to be one of the most exciting series around. Peter used to compete in it himself in a factory- maintained car, which was generally reckoned to be of 'enhanced spec'.
No-one dared complain though – he did own the company, after all.
The big sales breakthrough came with the appearance of the Griffith at the 1990 motor show. Suddenly TVR was deluged with orders. The Chimaera that followed was even more successful, and TVR was soon producing well over 1000 cars a year. But now Peter got really ambitious. He decided TVR should build its own engines.
The Cerbera's arrival in 1995 introduced the AJP8 engine, and the performance it gave the big 2+2 was astonishing: 0-60 in 4sec and 0-100mph in just over 9sec. Priced at  £37,000, it made many more exotic cars suddenly look very expensive.
The V8 was followed by another in-house production, this time a straight-six, which powered a succession of rapid and charismatic sports cars, culminating in the wild Sagaris, a car which now seems like the most fitting end to the Peter Wheeler TVR era.
The sale of the company to Nikolai Smolenski in 2004 was almost an accident as well. In fact, Peter had received an approach from an undisclosed party to buy TVR several months earlier. The thought of being able to spend more time with his family at his moorland farm in Lancashire, freed from the constraints of running TVR, was appealing so he went along with the idea.
The potential buyer then spent months asking for more and more information on the company and it began to look to Peter like the deal was never going to happen. To make matters worse, word had started creeping out that TVR was for sale and Peter was having to field enquiries from other parties keen to join the action. In the end, Peter decided to give up on the idea of selling TVR and refocus on taking the company to the next stage, refusing to take any further calls on the matter.
But while his receptionist was away on holiday, her replacement put through the initial call from Nikolai's representative, who she had mistaken for someone else. Peter was forced to listen but told the Russian that if he was to agree to sell TVR there would be no more pawing over accounts and he would have to pay in full within two weeks. To his surprise, the money arrived exactly two weeks later. TVR had a new owner.
Peter was finally free to enjoy family life to the full with his wife Vicky and their three young children. That autumn he bought a large catamaran yacht, which he kept on the west coast of Scotland. Summer now meant sailing round the Scottish Isles, fishing and racing an Aston DB4 lightweight, before turning his thoughts to shooting through the winter months. To be invited to shoot at the Wheelers' wonderful estate in Lancashire was a real privilege, the only downside being that Peter used to haul the guns about the estate in a devilishly uncomfortable tracked vehicle (known locally as The Tank) with the same enthusiasm normally reserved for his race car. He was an exceptional shot, though, recently voted one of Britain's top 50 guns by The Field magazine.
Even though TVR had been sold, Peter retained the core design team that had created cars like the Tuscan and Sagaris – he loved bouncing new ideas around the team and seeing what they might come up with. When evo visited them last year (issue 124) we were shown two of their projects – the crazy Scamander amphibious car and Peter's latest race car, the TVR 5000M. For 2009, the plan was to add jet power to propel the Scamander through the water, while Peter was hoping to continue developing the 5000M throughout the season. These projects are destined to continue despite Peter's untimely demise.
Peter Wheeler was one of those larger-than-life characters I thought only existed in novels. He always seemed to excel at anything he turned his hand to, despite not always doing things the easy way. He might have been quietly spoken but he possessed formidable drive and incredible presence (being 6ft 6in tall helped here), qualities that helped him build TVR into what it was in its heyday. 
His legacy to the motoring world is all those great TVRs, all of them enticing, exciting and challenging, just like the man himself. Our sincerest sympathy goes to his wife and three children. We will miss him greatly.