Introduced in 1982, FISA's Group B regulations enabled manufacturers to build rally cars the likes of which had never been seen before. The relative lack of restrictions and the small build numbers required to homologate a model for competition meant that, while most of the cars bore a passing resemblance to mainstream road-going models, beneath the skin they had almost nothing in common. Audi, Lancia, Peugeot and Ford would all build cars to fit this new class and, having retired its TR7 competition cars at the end of 1980, Austin Rover wanted to join in the action too.
John Davenport, chief of the British company's motorsport division, had no trouble deciding that his tubular chassis'd silhouette rally car should adopt the appearance of the Metro, simply because of its diminutive size (as he would later say: 'A small car makes a small track look bigger'), but he also knew that developing a Group B car was beyond what his team could achieve alone. As luck would have it, in 1982 Austin Rover was one of the Williams F1 team's sponsors, so the required skills were close at hand…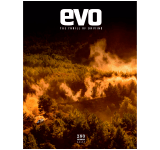 Subscribe to evo magazine
Subscribe today to have every issue of evo delivered straight to you. You'll SAVE 39% on the shop price, and get evo for its original cover price for a whole year!
While most Group B cars were adopting turbocharged four-cylinder engines, Davenport decided his Metro should employ a larger capacity, naturally aspirated engine, thus avoiding problems with turbo lag and higher running temperatures. A Honda V6 was considered (one would soon appear in the Rover 800), as was the venerable Rover V8, but Williams design chief Patrick Head wanted something smaller and lighter.
So while ex-Cosworth man David Wood set about designing a compact, aluminium-alloy 3-litre V6 (called 'V64V' because of its V6 configuration with 4 valves per cylinder), a temporary engine was created by lopping two cylinders off a 3.5-litre Rover V8. Since mounting a V6 up front would result in the driver having to sit almost where the rear seats would normally be, the engine was located behind the driver. As with nearly all of the car's emerging rivals, drive was sent to all four wheels.
The MG Metro 6R4 (6-cylinder, Rally, 4-wheel drive) made its press debut at London's Excelsior Hotel in February 1984 – and in rather dramatic style. The event began with the gathered journalists being invited to watch a film of a prototype undergoing testing. As the film reached its climax, the car was driven directly towards the camera, and just as it became life-size on the cinema screen, a real 6R4 burst through it, the driver – one Tony Pond – bringing the car to a halt just short of the astonished crowd.
This early car – painted in red with a white roof, just like the rallying Coopers of the '60s – was still far from finished. A significant amount of fine-tuning was still required, and this would all happen in the public eye as the car was entered in a number of British rallies over the months that followed. During this time the 6R4's wheelbase and track grew, the glassfibre bodywork sprouted huge wings for increased downforce, and, eventually, the 400bhp V64V engine was fitted, enabling the car to hit 60mph in just 3.2sec, and 100mph in 8.2sec.
In March 1985 the 6R4 took its first win, at the Gwynedd Rally, and by October the 200 cars required to homologate the super-Metro for the World Rally Championship had been built. Unfortunately the longer WRC events proved more punishing for the 6R4, and it frequently failed to finish, usually due to engine problems. Before these could be ironed out, a series of fatal accidents led to Group B being cancelled at the end of 1986. The 6R4's best WRC result would forever remain Pond's third place in the 1985 Lombard RAC.
Austin Rover pulled out of motorsport in 1987 and sold off its stock of 6R4s by reducing the original £45,000 asking price to just £16,000. It also sold the design of the V64V engine, to TWR, in whose hands it evolved into a 3.5-litre twin-turbo unit that appeared in Jaguar's Group C racers and the XJ220 road car. The 6R4 itself continued to compete in private hands wherever it was accepted, usually in 250bhp 'Clubman' spec, but the full potential of the 400bhp 'International' version will never be known.