Ken Block has to be responsible for bringing Gymkhana into the public eye with his series of stunning videos. I'll be honest, I didn't even know what Gymkhana was until I saw Block manoeuvre his 2006 Subaru Impreza WRX STI around a massive course, displaying slick filming and an elaborate array of driving skills on an American airfield back in 2008. It was awesome to watch and as a result, very popular, with over 40 million YouTube views to date. Known as Autotesting in the UK, Gymkhana is a recognised motorsport. In fact, Colin Hoad, chief instructor at CAT Driver Training, pointed out that within some car manufacturers (including Nissan), Gymkhana is used as a discipline to examine an employee's driving capabilities. And Colin should know, as he has lived and breathed driving and motorsport at a professional level for over 30 years. Amongst all the instructing honours he has achieved, he also has 20 years experience as a race engineer, trained by Rolls Royce. Colin and the CAT team are based at Millbrook testing facility and offer a variety of driver training courses to suit any particular area you wish to improve. A recent addition is a day-long Gymkhana programme. I went along to give it a try.
The course kicks off with a briefing from Colin, explaining what the eight of you (the course is taught in groups) will do throughout the day and asking what everyone wishes to achieve. Within the group I was spending the day with, personal goals ranged from learning core driving skills to Caterham race preparation, via simply having a laugh and enjoying the experience of driving different cars. And there are a variety of cars on offer, spanning from CAT's Ford Focus to a Vauxhall Monaro and a race-ready Caterham. After the briefing the group was introduced to the Gymkhana circuit, which at first looked daunting. However, we were all reassured that for the next few hours, Colin and co-instructor Paul would be taking us through each stage of the course step-by-step with the different cars in the CAT fleet.  Once split into two gangs of four, each group tackled a different part of the course. To start with, we mastered a long slalom in the Ford Focus and a BMW 3-series. The trick to this was steering with quick and accurate hands and a consistent throttle, in order to weave closely between the cones.  Another section of the course we took on was a 'pin' section, this time in the drift Caterham. This was all about manoeuvring the car 270 degrees around a single cone, and swiftly onto another one where you would do the same again. This was great fun, learning to brake hard before turn-in and get onto the throttle as early as possible, which meant learning how to cope with oversteer. The key to this was early observation (looking as far ahead as possible), the positioning of the car on entry and quick gear changing. We also spent more time managing understeer in the drift Caterham by trying to spin the car in a controlled state using hard braking and throttle control on a figure-of-eight layout. I'd already learnt a hell of a lot, but now was the time to put it all into practice. Participants get to take each car around the Gymkhana course – a combination of the items we'd been trying all morning – for three laps, to see which suits best. I took this opportunity to take Colin with me to get absolute confirmation of the course layout and for last minute tips, which really helped my confidence. We hopped in the Focus first, which was surprisingly entertaining and felt quick, as its front-wheel-drive helped me keep it very controlled.  Next I drove CAT's Subaru Impreza, which is fitted with a roll cage and racing seats. It was a real weapon around the Gymkhana course and I can see why a similar car was picked by Ken Block for his first video display. It was also very easily controlled, thanks to its four-wheel drive, and the extra power (compared to the Focus) meant it was super quick.  Next up was the Vauxhall Monaro; with the traction control off (naturally), it was a bit of a handful, but it felt easy enough to keep this big boat of a car in check around the course. It didn't feel fast, but it was great fun. Last but certainly not least was the racing Caterham, and I'd clearly saved the best until last. It was fantastic, the combination of a really sorted car and my piecing together of everything I'd learnt throughout the day leading to my quickest-feeling laps. Now, at the end of all this fun, is competition. Based on your laps around the course in each car, you then pick your weapon of choice for the finale. Nearly everyone in my group chose the racing Caterham, and I don't blame them. One member of the group opted for the Impreza, because if driven sweetly, this could lap faster around the course, plus it boasts more room for error than the rear-drive Caterham. My gut instinct told me to pick the Subaru too, but my heart chose the Caterham.  The finale is timed laps against the other drivers of the group. You get two laps to post the fastest time you can.  Unfortunately, the Caterham can be a handful and was the downfall of a few guys, including me, as it would happily lift-off oversteer or spin if you were too greedy with the accelerator. This meant one of my precious timed laps was ruined and I only had one chance to hook-up all the skills we'd learnt into one competitive lap.  In the end, I finished second out of our eight, but surprisingly, I wasn't that bothered about my overall time. Everyone in the group clearly had a great day and the extra element of a group competition made it a real day of banter with each of the guys taking part, with harmless jokes about each other's skills throughout. I was so chuffed that I'd learnt more driving techniques and was satisfied that I'd improved my overall driving. The price for the Gymkhana training course is £295 (per person), around the same as a typical trackday. Now I love trackdays, but I honestly think CAT's Gymkhana training is as much fun; you get the additional benefit of learning new skills, too. The other bonus is that it's not your car that you're punishing around the course (though you can use your own car if you wish), saving stress (to you and it!) as well as the cost of insurance, tyres and fuel. Highly recommended.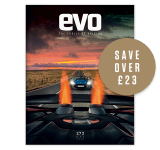 Subscribe to evo magazine
Subscribe today to have every issue of evo delivered straight to you. You'll SAVE 39% on the shop price, and get evo for its original cover price for a whole year!