A-Z Supercars: Lister Storm
This was the road version of Lister's twin-supercharged V12 Le Mans contender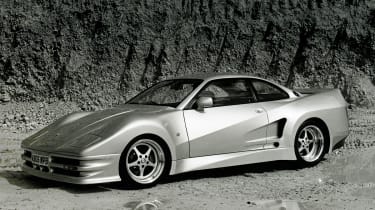 The original Lister car company had built Jaguar-based racers in the '50s and '60s. In the 1980s the name was revived by a new company that quickly made a name for building massively powerful and rather brutally restyled Jaguar XJ-Ss – but boss Laurence Pearce was already hatching much more ambitious plans…
Working out of an industrial unit in Leatherhead, Surrey, Lister Cars established itself, over the years, as the go-to outfit if you wanted your XJ-S to look a bit harder and go (quite a bit) faster. It wasn't the only company doing this, but the one thing you could rely on with Lister was the going faster thing. It knew its Jag V12 onions. Knew how much extra capacity and power the engines could take and remain reliable.
All of which must have been a little frustrating for Pearce because, while the XJ-S business kept the company accountant happy, what he really wanted to do was build a racing car. So that's exactly what he did. The twin-supercharged 7-litre V12, front-engined, 2+2 Storm was conceived as an entrant in the GT1 class at the Le Mans 24-hours, with the homologation cars rolling straight into contention with the supercar elite on the road. With 0-60 in 4.1sec and a top speed of 208mph, it was for a while the world's fastest four-seater road car.
Unfortunately for Lister, the Storm proved an unreliable racer (on its debut at Le Mans in 1995 it managed just 40 laps) and, although it made a rapid, fine-handling road car, it cost £450,000 and it wasn't a Ferrari. Just four road versions were made, and only three are believed to survive today.
Lister continued to campaign versions of the Storm in a number of race series, winning the team championship in FIA GTs in 2000 and also enjoying some success in the British GT series before the cars were finally retired in 2006.
Specifications
Years made 1993-1994Engine V12, 6997cc, twin superchargers Max power 594bhp @ 6000rpmTorque 580lb ft @ 3500rpm 0-60mph 4.1sec Max speed 208mphPrice £450,000 (new), n/a (today)