Click here to view Ferrari F40s for sale
The twin-turbo V8 should boost strongly but not bring the overboost light on and not suffer any hesitations or misfires. Turbos normally make a lot of smoke when they go; they may also lose performance and become noisy if vanes are damaged or broken. It is imperative to make sure there are no oil leaks from the engine – the turbos get super-hot and can ignite any oil very easily, with devastating results.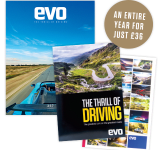 Subscribe to evo magazine
evo is 21 and to celebrate, we're returning to 1998 prices! Subscribe now to SAVE 39% on the shop price and get evo for its original cover price of £3.00 an issue, plus get a FREE gift worth £25!
Transmission
The five-speed manual 'box seems to be pretty bulletproof but will always require warming up before the shift and synchros work at their optimum. Clutch life is almost impossible to predict because it varies so much from driver to driver. Some can last for 20,000 miles, others a quarter of that. 
Suspension and brakes
Wheels suffer from corrosion around the split-rim bolts. Split-rims are also liable to weep air, resulting in tyres losing pressure, which can be hard to fix completely. The Pirelli P Zero tyres can be problematic to get hold of, as supply is sporadic.
The brakes are the only real weak point on the F40 – on track you will run out of stopping power after just a few laps, which is why cars that have done track work quite often have modified brakes: good for driving, not so good for Ferrari Classiche certification. Non-adjustable suspension is generally considered preferable today – the later adjustable suspension can be unreliable as the systems get older and parts are no longer available.
Bodywork
The carbon-Kevlar panels are cosmetically quite basic, as the technology was very new at this time. Look for a visible weave in the paintwork, indicating the originality of the paint with no filler or repairs underneath. The underside of the panels should be unpainted. The seam-sealer in the cockpit should be green and the condition of the carbon weave inside the car should be inspected thoroughly.
The rubber front splitter is prone to damage, as is the underside of the nose, so these areas need to be inspected carefully. Watch out for staining on the rear Perspex quarter-light panels and the rear deck window – these are expensive to renew.
Specification Engine 90deg V8, 2936cc, twin turboMax power 478bhp @ 7000rpmMax torque 425lb ft @ 4000rpmTransmission Five-speed manual gearbox, rear-wheel driveWeight (kerb) 1100kgPower-to-weight 441bhp/ton0-60mph 3.7sec (claimed)Top speed 201mph (claimed)Price when new £160,000 (1987)
Parts prices
Supplied by Bob Houghton Ltd, including VAT at 
20 per cent Tyres (each) £235 front, £525 rearBrake pads (front set) £583Brake discs (front pair) £900 (Brembo replacements)Front dampers No longer available; rebuilds approx £300 per damperClutch £1360 (includes pressure plate)Exhaust £2600 (Tubi Style, fitted)Oil filter £21.12Spark plugs (set of eight) £60
Servicing Prices from Bob Houghton Ltd 3000 miles (or annual) £1000Cambelt service (every 2 years) £1800 What to pay
Scan the classifieds and, if you find an F40 for sale, it's almost certainly Price On Application, but a few phone calls and a little digging reveals just how much F40 values have increased in the last few years. It also suggests there is a huge variation in prices, depending on a number of factors, the chief ones being condition, history, mileage and originality (the latter being critical if the car is to have the increasingly sought-after Ferrari Classiche authentification). The lower end of the range is currently around £300,000 for a car that has possibly had repairs or has gaps in its history. Pristine examples with Classiche certification and a flawless history can now fetch up to £500,000. Useful contacts
bobhoughtonferrari.co.uk 
(sales and servicing)dkeng.co.uk (DK Engineering, sales and servicing)talacrest.com (sales)simonfurlonger.co.uk (sales)tomhartley.com (sales)joemacari.com (sales and servicing)nickcartwright.com (sales and servicing)ferrariownersclub.co.uk (advice, events)
Click here to view Ferrari F40s for sale