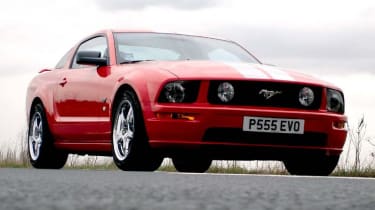 Since mentioning the fuel filling problem a few months back, I've been heartened to receive lots of feedback from a surprising number of fellow 'Stangers. Mirroring my own findings, nozzle positioning can help, a quarter turn seeming to improve things. More curiously, Shell stations are the worst for repeated clicking, while BP pumps are the least problematic. Ultimate it is, then.
After discussing the problem with Iain Litchfield (we bought the car through his company, Litchfield Imports), he has spoken to his US supplier and established that he can change the tank under Ford warranty. If you're suffering similar problems, give him a call on 01684 850999.
I'm pleased to say that the fat Roush rims and Yokohama Advan Sport tyres have transformed the Mustang's wet and dry road dynamics. Made to replace Yokohama's aging AVS tyre, the new Advan Sport is already OE fitment on Bentley's Conti GT and Flying Spur, and Porsche's 997 C4. I'm pleased to report that the Japanese rubber works well on the big, powerful rear-drive Mustang too.
As you'd hope from a set of 285/40 ZR18s, there's much more grip - from turn-in to exit - and though this means the 'Stang is less willing to wag its tail, it does mean you have more say in when it does! Powerslides now have a satisfying progression, and it's possible to adjust the Mustang's stance more accurately with the throttle, rather than poking the tail out and holding on tight.
Downsides are a deterioration in ride quality (inevitable after the comfort-spec original rubber) and some tramlining on overtly cambered or badly scarred surfaces. This, I suspect, is due to the Roush rims being too wide at the front (a whopping 10in across, like the rears) rather than a fault of the tyre. Overall, though, I think the compromised comfort is a fair trade-off for the added grip, traction and wet-weather security. The chrome rims and cartoon tyres also mean the 'Stang is more unashamedly in-yer-face than ever, which, let's face it, is integral to the big Ford's appeal.
Running Costs
| | |
| --- | --- |
| Date acquired | April 2005 |
| Total mileage | 14,811 |
| Costs this month | £0 |
| Mileage this month | 1,436 |
| MPG this month | 18.8mpg |