'In four or five years, you'll find Formula E overtaking Formula 1 in terms of number of people [who support it]. And in 20 years from now there will be no new cars built that aren't battery cars.' 
Sir Richard Branson is well placed to comment on the future of motor racing, having invested heavily in Formula E and previously Formula 1. But suggesting that F1 – a championship that's long been recognised as the world's premiere racing series - will succumb to electric racing and that combustion engines will be all but removed from our roads is bold, even for a man as accomplished as him.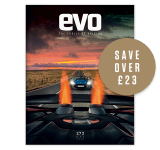 Subscribe to evo magazine
Subscribe today to have every issue of evo delivered straight to you. You'll SAVE 39% on the shop price, and get evo for its original cover price for a whole year!
Branson's remarks were announced at Virgin Racing's press conference during the weekend of the first ever London ePrix on 27-28 June, where the team confirmed that DS Automobiles would partner it for the following season. This deal, and Formula E's inaugural season, had left Branson feeling confident. 
'Though it's only one season old, there aren't a lot of negatives from the first year,' he proclaimed. 'Formula E will spur on the revolution that the world needs.'
It'd be easy to simply label Branson's comments as unfounded, but recent movements within motorsport suggest they probably hold more grounding than one might initially expect. A prime example comes with one of F1's longest standing engine builders, Renault. It's no secret that the French manufacturer is uncertain about its future in F1, with two consecutive seasons of poor results (and public complaints from its customer teams) damaging brand image. 
At the same time, the French manufacturer has continued to confirm that Formula E will remain part of its racing plans for the future, suggesting that the electric series could eventually become a priority.
Michelin has also expressed on-going support for Formula E, confirming that the championship is an effective test bed for its future road tyre technology. 'During a race we're in a context where the way the tyre is working is very similar to a normal road tyre. We can use Formula E as a laboratory,' Serge Grisin, Michelin's Formula E project manager, told evo.
Add involvement from other global brands like Audi, Virgin (both through teams), McLaren and Williams (both supply drivetrain tech), and support for Formula E appears strong. But is it really strong enough to challenge F1?
Viewing figures certainly confirm the potential. Formula E reported that the first three rounds of the 2014/2015 season were watched by a total of 56 million global viewers. That's an average of 18.7 million viewers per race, which compares to a race average of 22.4 million viewers for F1 in 2014 (made up of claimed 425 million viewers over 19 races).
So while TV audiences are respectable, does the racing entertain enough to keep the viewers hooked? evo attended the London ePrix at Battersea Park, which received a 'near sell-out crowd', according to the event's commentators, at least.
The crowned circuit provided drivers with a unique challenge, leading many to draw similarities between the track surface and a 50 pence coin. 'The circuit's very bumpy and the crowing in the road, changes in the tarmac and even the trees - they make visibility quite tough - it's a challenge,' confirmed Sam Bird, Virgin Racing driver and winner of Sunday's race.
There's also no denying that watching single seaters zip around narrow, tree-lined roads, all framed against a backdrop of London certainly felt special. And the racing itself? It was certainly good in London, though admittedly the best stuff didn't happen until Sunday's round. The whole season has seen close, wheel-to-wheel battles, with some of the world's most experienced single-seater drivers heading the field.
But, the racing still isn't as close as say, touring cars, and the cars aren't anywhere near as impressive to watch as F1 cars; even Formula 3 cars provide more of a spectacle on their own. We tried, but we couldn't find a single spectator who said that the low-volume, high-pitched whine of an electric motor could compete with the deep, gruff note of a V8 GT racing car, or even the complex, textured sound of a modern turbocharged F1 car. Speeds are down on most single seater series too, so the cars don't appear that much faster than touring cars. With both of these things lacking, it's clear Formula E doesn't have the 'wow' factor of some of its more conventional rivals.
Formula E has managed to do some things very well, though, and some things better than F1, in fact. For starters, the whole London event was marketed not just as a race, but also as a day out, broadening its appeal. The eVillage in the middle featured entertainment for families, with children's fairground rides and burger vans scattered across Battersea Park's green.
The series is also covered extensively on social media, drawing in young fans and extending its reach. Full race coverage is posted onto YouTube after the race has finished, allowing audiences that may not have had access to the race on TV to watch repeat footage. That's quite a contrast to the pay-view world of Formula 1 in many global markets.
But despite Formula E's strengths, its use of social media and 'day out' promotion won't necessarily attract the die-hard motorsport fan, something that Formula 1 still manages to do each year. Yes, it might have lost some of those fans in recent times - largely thanks to the switch from V8s to turbocharged V6s - but F1 still draws in faithful fans in their millions. 
So, Sir Richard's claims for a Formula E dominated motorsport future seem a little futile for now. But things could be set to change quite dramatically. Where Formula E's teams have been running identical, Spark-Renault chassis with McLaren-sourced electric motors, in following seasons the teams will be running their own chassis with their own sourced motors. Formula E will essentially be the Formula 1 of electric racing.
Could this be the time we see Formula E take off? Will the variety of independently developed cars and the innovation they bring be enough to send Formula E charging to the top of the motorsport ladder? Or will F1 reign supreme for decades to come? We want to know what you think. Let us know in the comments below.